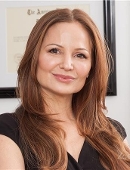 Monica L Halem, MD
About Me
Clinical Focus
Locations
Publications
About Me
Monica Halem, M.D., FAAD is a Board Certified Dermatologist and fellow of the American Academy of Dermatology, American Society for Dermatologic Surgery, America College of Mohs Micrographic Surgery, and the American Society for Lasers in Medicine & Surgery. Dr. Halem is the Founder and Medical Director of New York Dermatologic Surgery Cosmetic Laser Center and is Assistant Clinical Professor of Dermatology in the Department of Dermatology at the Mount Sinai School of Medicine in New York.

Dr. Halem has been recognized for her achievements throughout her academic and medical career, graduating with collegiate honors from the University of Michigan and then with research honors distinction from the University of Miami School of Medicine. She remained at the University of Miami to complete her internship and three year residency in General Surgery. Dr. Halem then went on to complete a research fellowship in Cosmetic Dermatology followed by a Dermatology residency at the University of Miami's Department of Dermatology and Cutaneous Surgery. During this time she conducted several clinical trials advancing the field of cosmetic dermatology, was published in multiple peer-reviewed journals in the fields of cosmetic and medical dermatology, and was awarded the Dermatology Skin Foundation First Place Research Award and the 2007 Outstanding Dermatologic Surgeon Award. From there, Dr. Halem was selected to attend a prestigious dermatology fellowship at the University of California San Francisco where she received advanced training in her specializations of skin cancer surgery, cosmetic, and laser surgery.

In 2008, Dr. Halem brought her expertise to Columbia University/New York Presbyterian Hospital where she was Assistant Clinical Professor of Dermatology for the faculty practice. As a member of the faculty, her demonstrated leadership allowed her to mentor and teach other dermatology residents dermatologic surgery, which she still continues today. In 2009, Dr. Halem was selected as an expert injector to teach other physicians in the New York area her expert technique of how to inject Botox® and fillers and is still active in this training. She later joined faculty at Mount Sinai School of Medicine where she is currently Assistant Clinical Professor of Dermatology and teaches residents cosmetic dermatology. Currently, she is Founder and Medical Director of New York Dermatologic Surgery Cosmetic Laser Center on Fifth Avenue; her new state-of-the-art office that is the premier destination for individualized treatment and proven results. She has contributed her expansive knowledge to peer-reviewed medical articles, been published in a number of journals, and has written several book chapters. She has conducted significant clinical trials in dermatologic and cosmetic surgery and has given talks on her skin cancer research in guest lecture appearances to students and practitioners in diverse medical fields. Additionally, news and media outlets often call upon Dr. Halem to report on treatments and advancements in dermatology, including Entertainment Tonight, LX.TV, Fox News New York, CBS News, NBC News, NPR Radio, and the Meredith Viera Show. In her practice, Dr. Halem continually receives stellar reviews from those she has treated and has been awarded for her compassionate care, consideration of patient's time, and for being the preferred choice of dermatologist in NYC.

Having taught top medical students and physicians alike, Dr. Halem is bringing her widely respected skills directly to patients in the intimate setting of her Fifth Avenue practice. Her training and specializations in Mohs micrographic surgery, dermatologic surgery, cosmetic dermatology and laser surgery make her an authority on a broad range of medical and cosmetic dermatology concerns. Dr. Halem believes in providing only the most advanced and tested treatments at her practice, thoroughly investigating new technology before introducing it to her patients. Through ongoing research in dermatology, skin cancer therapy, and non-invasive cosmetic procedures, in addition to developing a product line specially formulated to address the skincare needs of her clientele, Dr. Halem offers the most comprehensive dermatologic treatment and state-of-the-art skin rejuvenation procedures. It is her mission to approach every case with the kindness of a friend, the knowledge of a doctor, and the experience of an expert for an unparalleled patient experience.

Language
Position
ASSISTANT CLINICAL PROFESSOR | Dermatology