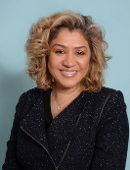 Nada Farhat, MD
About Me
Nada A. Farhat is an American Board of Pathology certified and multi-fellowship trained Attending Pathologist at the New York Eye and Ear Infirmary of Mount Sinai and Assistant Professor of Pathology at the Icahn School of Medicine. Her diagnostic and research specialties include a myriad of ophthalmic, endocrine, pediatric and adult head & neck neoplastic and non-neoplastic diseases. She received her medical degree from King Faisal University, residency degree in Pathology at Tufts Medical Center and first fellowship in Ophthalmic Pathology at the New England Eye Center/Tufts University School of Medicine. Subsequently, she went on to complete three more fellowships; Head & Neck Pathology at Massachusetts General Hospital/Harvard Medical School, Pediatric and Neonatal Pathology at Boston Children's Hospital/Harvard Medical School in Boston and Oncological Surgical Pathology at Memorial Sloan-Kettering Cancer Center in New York City.
Her vast training experience with preeminent leaders in the field of pathology have paved opportunities for research and academic endeavors including authorship of several chapters in the first and second additions of a textbook in endocrine pathology titled "Diagnostic Pathology: Endocrine" and in ophthalmic pathology titled "Ocular Tumors in Pathobiology of Human Disease: A Dynamic Encyclopedia of Disease Mechanisms".
In addition to Farhat's vast training and experience in Pathology, her education is bolstered by graduate degrees in Public Health from Tufts University School of Medicine and Communication Studies from Emerson College.
Farhat is also a self-taught artist and award-winning painter. Her work has been acquired by Johns Hopkins Healthcare, KPMG International, and The United Nations and has been interviewed by CNN and National Geographic. She uses her art skills in medical book illustrations and as a medium in her teachings, presentations and collaborative educational and public diplomacy efforts across the globe.
Language
Position
ASSISTANT PROFESSOR | Pathology, Molecular and Cell Based Medicine