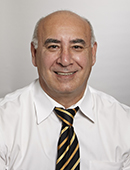 Video Visit Available
Accepting New Patients
Mount Sinai Doctors
Accepting New Patients
Nadim Salomon, MD
Infectious Disease, Internal Medicine
Book an Appointment
About Me
Clinical Focus
Education & Certifications
Awards
Research
Locations
Insurance
Publications
Patient Experience Rating
Industry Relationships
About Me
I have served as the Medical Director of the Peter Krueger (PKC) since 2000. PKC provides longitudinal HIV and primary care to ~1200 HIV infected persons together with onsite mental health, nutrition, case management, adherence/care coordination and specialty services (dermatology and pain management). PKC has an operating budget of $2.1 millions plus $1.5 millions in grant funding and a staff of 62 of whom are grant funded including 4 Infectious Diseases Fellows who have each one weekly clinic session. I have made several important contributions including the customization of the EMR that has resulted to into better quality outcomes and to the development of a research capacity, more structured fellow education using dedicated attending physicians, development of a capacity to treat Hepatitis via a prior NY state funded Hepatitis C grant, improved monitoring of chronic opioid therapy, the implementation of NY State funded care coordination and treatment adherence for HIV treatment failures, the smooth transition to managed care, and recent contributions to the Mount Sinai System including workflow modifications, Hepatitis C education grant application and HIV Quality Program design.
I have been a full staff member of the Department of Medicine, Division of Infectious Diseases since July 1989 and have contributed each at least 3-4 months/year to the teaching and supervision of Internal Medicine residents and Infectious Diseases Fellow together with several didactic lectures. I oversee the outpatient training of 4 Infectious Diseases Fellow at the Peter Krueger Clinic and am directly responsible for the teaching of one ID fellows (4 hours/week). I have served in several leadership teaching positions including coordinator of TB/Pulmonary ID rounds and Clerkship Director for sub interns rotating at Beth Israel. I have an excellent tract record in mentoring ID fellows and residents in clinical research. I am a recipient of the Beth Israel Teaching Award and my teaching evaluations have been consistently above my peer group.
I followed a cohort of about ~120 HIV infected patients at the Peter Krueger clinic and I am responsible for the supervision of one nurse practitioner. I have a growing faculty practice and I provide direct care to ~500 HIV infected patients at the Phillips Ambulatory care clinic together with consultative services about general ID cases and travel medicine. All of my referrals have come from my patients and from my peers. I am local, national, and international resource for difficult for complex to manage HIV and TB cases. I have been nominated NY Super Doctor 5 times in the past 6 years.
Language
Position
PROFESSOR | Medicine, Infectious Diseases
Hospital Affiliations
Mount Sinai Beth Israel
The Mount Sinai Hospital
New York Eye and Ear Infirmary of Mount Sinai
Download the CV