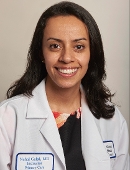 Nehal Galal, DO
About Me
Nehal Galal, DO is Instructor, Internal Medicine at Mount Sinai Queens. She received her degree in medicine from the New York College of Osteopathic Medicine and completed her residency in internal medicine at The Mount Sinai Beth Israel Hospital. She is a member of the American College of Physicians and the Society of Hospital Medicine.

Dr. Galal's clinical interests are in primary care, diabetes management and preventive medicine. She is a native of Queens, fluent in Arabic and is passionate about caring for the culturally diverse members of the Queens community. Patient education is an integral part of her approach to medical treatment and she looks forward to expanding health literacy both during office visits and through community outreach events in Queens. She most enjoys being a patient advocate and sharing one-on-one time with patients. She makes an effort to establish a strong rapport with her patients that allows them to share the concerns that impact their health. For her, delivering the best care not only involves knowing her patients well but also knowing their family members and the community they live in.

Dr. Galal is a proponent of addressing and respecting cultural differences in views toward illness and treatment as an important factor in improving outcomes. Having studied the disparities of access to healthcare in different communities, Dr. Galal is interested in working to improve access and quality of care delivered in all populations and especially within the Queens community.

Language
Position
ASSISTANT PROFESSOR | Medicine, General Internal Medicine