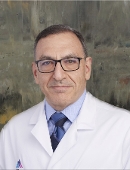 Mount Sinai Doctors
Accepting New Patients
Neil M. Rofsky, MD
Radiology
No Patient Experience Ratings
Book an Appointment
About Me
Education & Certifications
Awards
Research
Locations
Insurance
Industry Relationships
About Me
Neil M. Rofsky, MD, MHA, is the Dr. Charles and Marilyn Newman Professor and Chair of Diagnostic, Molecular and Interventional Radiology at the Mount Sinai Health System. He is also the Senior Associate Dean of Wellness and Coaching for the Icahn School of Medicine at Mount Sinai.
An expert in magnetic resonance imaging (MRI), Dr. Rofsky is board certified in both diagnostic radiology and nuclear medicine. He has an established track record of rapidly translating discoveries and innovations into new standards of clinical care. His focus on MRI technical development has led to diagnostic breakthroughs that have enabled new management options for patients. Among these advances are pioneering magnetic resonance (MR) angiographic techniques; inventing the volumetric interpolated breath-hold examination sequence, the first technique to robustly image the body with 3D acquisitions; collaborating with industry to establish whole body 3T systems as the premier instrument in the clinical MR market; and demonstrating the value of MR techniques to improve a variety of conditions, particularly prostate cancer care. He has authored more than 250 scholarly publications and several textbooks and presents regularly at such medical societies as the Radiological Society of North America, the International Society of Magnetic Resonance in Medicine, and the Society for Advanced Body Imaging.
After finishing his internship, Dr. Rofsky completed fellowship training in nuclear medicine at the University of Utah. Subsequently, he spent his years in residency, two fellowships (abdominal imaging and magnetic resonance imaging) and eight years as faculty at New York University Langone Medical Center. He then moved to the Beth Israel Deaconess Medical Center as Director of Magnetic Resonance Imaging and rose to the rank of Professor at Harvard Medical School. Next, he was recruited to the University of Texas Southwestern (UTSW) Medical Center and served as Chair of the Department of Radiology before his recruitment in 2023 to the Mount Sinai Health System. At UTSW, he established programs in MR-guided high intensity focused ultrasound, cyclotron-based radiochemistry, and magnetoencephalography and implemented dedicated clinics for clinical radiology and theranostics. During his tenure at UTSW, Dr. Rofsky earned a Master of Health Administration degree at Columbia University.
Dr. Rofsky has embraced and incorporated coaching concepts into a transformational leadership style that he teaches on local, regional, and national levels to achieve improved communication and collaboration, essential in today's complex world of multidisciplinary care and team science. He brings these capabilities to enrich the Mount Sinai Health System in his role as Senior Associate Dean of Wellness and Coaching.
Dr. Rofsky previously served as president of the Society of Advanced Body Imaging, as a board member of the InternationalSociety for Magnetic Resonance in Medicine Board of Trustees, and as co-chair of Clinical Imaging Steering Committee of the National Cancer Institute for two consecutive terms.
Dr. Rofsky on Twitter: @RofskyMD
Language
Position
PROFESSOR | Diagnostic, Molecular and Interventional Radiology
Hospital Affiliations
Mount Sinai Beth Israel
New York Eye and Ear Infirmary of Mount Sinai