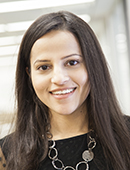 Video Visit Available
Accepting New Patients
Mount Sinai Doctors
Accepting New Patients
Neomi A Shah, MD
Pulmonary Medicine (Lung), Sleep Medicine
No Patient Experience Ratings
Book an Appointment
About Me
Clinical Focus
Video
Education & Certifications
Awards
Locations
Insurance
Publications
Industry Relationships
About Me
Neomi Shah, MD, MPH, MSC, is a Professor in the Department of Medicine, Division of Pulmonary, Critical Care and Sleep Medicine. Dr. Shah is board-certified in Internal Medicine, Pulmonary, Critical Care and Sleep Medicine. She completed her clinical and research fellowship in Pulmonary, Critical Care, and Sleep at Yale University School of Medicine. During her fellowship, she also earned a Master's in Public Health from the Yale School of Public Health and received the Ruth L. Kirschstein National Research Service Award. Dr. Shah's post-doctoral research identified sleep apnea as a risk factor for coronary artery disease related events. She seeks to elucidate the complex relationship between obstructive sleep apnea (OSA) and coronary artery disease, especially in the setting of an acute myocardial infarction. After completing fellowship, Dr. Shah was a faculty member at Albert Einstein College of Medicine/Montefiore prior to joining Mount Sinai.

Dr. Shah has received two grant awards from the American Sleep Medicine Foundation (2009, 2011) and an institutional CTSA KL-2 Career Development Award (2012-2015). Dr. Shah is the Principal Investigator of an NIH funded K-23 award. She leads a multidisciplinary translational study that investigates the effect of sleep apnea on severity and prognosis of myocardial infarction through an integrated assessment of: (1) quantification of myocardial infarct size using cardiac imaging, (2) coronary collateral scoring and (3) biomarkers of hypoxic stress. In addition to the K-23, Dr. Shah also recently received a Focused Projects Award from the American Sleep Medicine Foundation where she plans to measure "Coronary Plaque Activity Using Cardiac Gated PET-CT with 18F-NaF in Individuals With and Without Sleep Apnea". She has partnered her research with a leading expert in the field of cardiac imaging, Dr. Zahi Fayad, who is the Director of the Translational and Molecular Imaging Institute at Sinai. In addition to the above noted research investigations, Dr. Shah is also the Medical Director of Bronx Clinic for the Hispanic Community Health Study/Study of Latinos (HCHS/SOL), a landmark population-based study of health outcomes in the US Latino population led by her mentor Dr. Robert Kaplan. There is an extensive sleep component in HCHS/SOL, including both self-reported and objective sleep monitoring, making it one of the largest studies ever conducted on sleep disorders and vascular disease. Dr. Shah has been actively involved in data collection, analysis and manuscript production in this ambitious and complex study of 16,000 Hispanic individuals from across the US. In particular, she has spearheaded research in this cohort aimed to identify gender and ethnic differences in the presentation of sleep apnea and biomarkers of sleep apnea that are linked to cardiovascular disease risk. Dr. Shah is board-certified in Internal Medicine, Pulmonary, Critical Care and Sleep Medicine.

Dr. Shah serves on the editorial board of CHEST and Journal of Epidemiological Research. Additionally, she serves on CHEST's Sleep Steering Committee, American Thoracic Society's Sleep and Respiratory Neurobiology Assembly's Education Committee. She has published her research in the American Journal of Respiratory and Critical Care Medicine, Sleep and Breathing, Arteriosclerosis and Thrombosis Vascular Biology and The Journal of Clinical Sleep Medicine. Additionally, Dr. Shah is pursuing a Master of Science in Health Care Delivery Leadership at the Sinai's Graduate School of Biomedical Sciences and is expected to graduate in 2017.

Dr. Shah is the author of "Sleep in the City," which was recently published in the Our Town newspaper.
Language
Position
PROFESSOR | Medicine, Pulmonary, Critical Care and Sleep Medicine
Hospital Affiliations
The Mount Sinai Hospital
New York Eye and Ear Infirmary of Mount Sinai
Research Topics
Angiogenesis, Atherosclerosis, Cardiovascular, Computed Tomography, Imaging, Lung, MRI, Magnetic Resonance Imaging, Molecular Epidemiology, Obesity