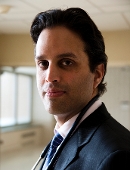 Accepting New Patients
Nimesh P Nagarsheth, MD
Gynecologic Oncology
No Patient Experience Ratings
Book an Appointment
About Me
Clinical Focus
Education & Certifications
Awards
Locations
Insurance
Publications
Industry Relationships
About Me
Dr. Nimesh P. Nagarsheth is an internationally-recognized Gynecologic Oncologist with a priamry practice at Englewood Health in Englewood, New Jersey. In addition to serving on faculty as a Clinical Professor at Mount Sinai, he also serves as Director of Gynecologic Oncology and Director of Robotic Surgery at Englewood Health. In his practice, Dr. Nagarsheth provides the full range of surgical and medical gynecologic oncology care, and is recognized as the world's expert in performing Bloodless Surgery (transfusion-free surgery) in Gynecology and Gynecologic Oncology. In addition, his work and publications on humanistic care and the intersection of music and medicine have also gained him international recognition.
Dr. Nagarsheth graduated with honors (Alpha Omega Alpha) from the Mount Sinai School of Medicine. He completed his residency training in Obstetrics and Gynecology at Duke University Medical Center, and completed his fellowship in Gynecologic Oncology at Mount Sinai. Throughout his training and career, Dr. Nagarsheth has won numerous teaching, research, and clinical awards including receiving the prestigious Public Service Award by the Foundation For Women's Cancer in 2018/2019. During his training, Dr. Nagarsheth also conducted cutting-edge research at New York University Medical Center and Memorial Sloan-Kettering Cancer Center in New York.
Dr. Nagarsheth has performed extensive research on the mechanisms of cancer prevention, including the hormonal manipulation of apoptosis. He is a lead author on a landmark study that provides the most convincing evidence yet for a novel theory of how birth control pills help prevent ovarian cancer. He has continued his research at Mount Sinai evaluating the role of hormonal effects on gynecologic organs, and has developed an extensive research background in blood management in the field of Gynecologic Oncology. He speaks frequently at national meetings and serves as a principal investigator for several national clinical trials.
Dr. Nagarsheth is leading the way in humanistic patient care - specifically healing through the arts and music. An acclaimed musician and percussionist, in 2008, Dr. Nagarsheth joined with 5 other women's cancer surgeons from around the country to launch an international campaign to raise awareness of gynecologic cancers through music and the arts. Dr. Nagarsheth and his colleagues formed the rock band N.E.D. (No Evidence of Disease), writing, recording and performing original music to raise awareness and funds for women's cancers http://nedtheband.com/
Shortly after its formation, N.E.D. received a recording contract from Motema Music, NYC a New York City based record label - and released their first album in 2009. In the past 11 years, the band has toured internationally and has become a significant fundraising platform for the Foundation for Women's Cancer. N.E.D. has released 3 studio albums and in 2018 collaborated with Tom Morello (Rage Against the Machine) to release the single Life As It Was.
The success of N.E.D. led Dr. Nagarsheth on a number of projects to improve quality of life for women's cancer patients through music. In 2010, he published Music and Cancer, A Prescription for Healing with Jones & Bartlett Publishing. The book has received top reviews ranging from survivors to the past president of the American Cancer Society. Based on the concepts of his book, Dr. Nagarsheth's talk - Music and Cancer – has received rave reviews and has been given at various events from survivor meetings to grand rounds at some of the top medical centers in the United States.
In 2011, Dr. Nagarsheth received the prestigious GOLD DOC Award recognizing his contributions to Humanism in Medicine. In January 2012, 201 Magazine featured Dr. Nagarsheth as one the "15 People to Watch in Healthcare" based partly on his work in music and medicine.
In 2015, Dr. Nagarsheth and his band members were featured as the subject of a documentary film that captures story of their band N.E.D. The film, entitled No Evidence of Disease., is produced by Spark Media, Washington D.C. The film is a not for profit endeavor to serve as a vehicle to raise awareness for women's cancer and the healing powers of music. The film has been in theaters nationally and has been aired on PBS for the past 4 years with over 230 million views to date. The film can be viewed at http://nedthemovie.com/.
Language
Position
CLINICAL PROFESSOR | Obstetrics, Gynecology and Reproductive Science
Hospital Affiliations
Mount Sinai Morningside
Mount Sinai Beth Israel
Mount Sinai Brooklyn
Mount Sinai Queens
The Mount Sinai Hospital
Mount Sinai West