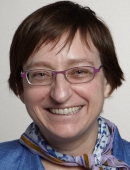 Patricia Kovatch, BS
About Me
Video
Locations
Publications
About Me
Patricia Kovatch joined the Icahn School of Medicine at Mount Sinai as the founding Dean for Scientific Computing and Data in 2011. She is a tenured Professor in the Departments of Genetics and Genomic Sciences and Pharmacological Sciences.
Her arrival at Mount Sinai immediately elevated the institution's computational and data ecosystem to a level beyond what most medical centers could imagine. These new data analytic capabilities helped Mount Sinai to usher in an era of precision medicine, bringing Mount Sinai recognition from the NY Times, Wired and Fast Company. Dean Kovatch and her multi-disciplinary team of experts at the intersection of technology, biomedical science and medicine have enabled multi-scale, AI-powered science through close collaborations with researchers and clinicians across the Mount Sinai Health System. These partnerships support over $100 million in NIH-funded computational and data science research per year, resulting in over 1,500 publications over the last 10 years and has enabled new research funding.
As a Principal Investigator (PI), Dean Kovatch has been continuously funded by the National Institutes of Health (NIH) since 2014. She has received multiple NIH equipment awards from the Office of the Director for high-performance computing and data infrastructure that have accelerated research and discovery and reduced cost for Mount Sinai. She was awarded a training grant from the National Institute for Biomedical Imaging and Bioengineering for the Community Research Education and Engagement for Data Science. She is also the PI and Director for the Data Repository and Management Core for the National Institute of Environmental Health Sciences' Human Health Exposure Analysis Resource.
Before coming to Mount Sinai, Dean Kovatch previously served as the director of an institute for computational science for the National Science Foundation at a Department of Energy national laboratory. This institute deployed the third fastest supercomputer in the world in 2009.
Language
Position
DEAN FOR SCIENTIFIC COMPUTING AND DATA SCIENCE, PROFESSOR | Genetics and Genomic Sciences, PROFESSOR | Pharmacological Sciences
Research Topics
Biomedical Informatics, Computational Biology, Computer Simulation
Multi-Disciplinary Training Areas
Genetics and Genomic Sciences [GGS]