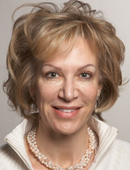 Patrizia Casaccia, MD, PhD
About Me
Education & Certifications
Research
Locations
Publications
Industry Relationships
About Me
Dr. Patrizia Casaccia is Professor of Neuroscience, Genetics and Genomics; and Neurology. Dr. Casaccia is the Chief of the Center of Excellence for Myelin Repair at the Friedman Brain Institute at Mount Sinai School of Medicine.
She received her medical degree with Honors from the University of Rome, and a PhD degree in Neurobiology from State University of New York (SUNY) Health and Science Center Brooklyn. She then trained at Cornell Weill Medical Center in New York and at the Skirball Institute for Molecular Medicine at NYU.
Dr. Casaccia's work adopts molecular and cellular techniques to find new therapies for multiple sclerosis. Her work includes translational research in regenerative and personalized medicine. The laboratory focuses on myelin repair with a special emphasis on the effect of aging and gender differences. In addition, her research addresses the mechanism of neuronal damage in patients with MS leading to novel screening for the discovery of new therapies to protect the neurons and replace damaged myelin.
The new methodologies leading to personalized medicine include the generation of neural stem cells from patients' skin, and the analysis of DNA and RNA from the blood of multiple sclerosis patients. Her work is funded by grants from the National Institute for Neurological Disorders and Stroke and by the National Multiple Sclerosis Society.
Languages:
English
Spanish
Italian
Research Interests:
Epigenetic control of progenitor differentiation in development and diseases of the central nervous system
Myelin repair
Mechanism of axonal damage
Neural stem cells: mechanisms of proliferation and tumorigenesis
Approaches:
Genome-wide studies
Proteomics
ChIP
Confocal Analysis
In vivo imaging
Mouse models
Primary cultures from rodent brains
Human brain studies
Visit Dr. Patrizia Casaccia's
Laboratory of Epigenetics of Neural Repair
for more information.
Language
Position
ADJUNCT PROFESSOR | Neuroscience
Research Topics
Aging, Axonal Growth and Degeneration, Cell Biology, Cell Cycle, Cellular Differentiation, Chromatin, Demyelination, Developmental Neurobiology, Epigenetics, Gene Regulation, Molecular Biology, Multiple Sclerosis, Myelination, Neuro-degeneration/protection, Neurobiology
Multi-Disciplinary Training Areas
Disease Mechanisms and Therapeutics (DMT), Genetics and Genomic Sciences [GGS], Neuroscience [NEU]