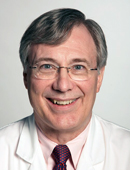 Mount Sinai Doctors
Accepting New Patients
Paul Stelzer, MD
Cardiovascular Surgery (Heart Surgery)
Book an Appointment
About Me
Clinical Focus
Video
Education & Certifications
Awards
Locations
Insurance
Patient Experience Rating
Industry Relationships
About Me
Dr. Paul Stelzer's roots go back to Middle America having been born in Minnesota and raised in Nebraska. After graduation from college in Texas, he came to New York for medical school and residency training. He is known as a "people person" who enjoys spending time getting to know his patients and keeping in touch with them. Dr. and Mrs. Stelzer have two terrific, talented children, a wonderful son-in-law and three delightful grandchildren.
Dr. Stelzer's experience with the Ross Procedure in over 550 patients over 27 years is one of the longest and most extensive in the world. He also has a wealth of experience in other complex valve procedures and correction of ascending and arch aortic aneurysms.
His interest in valvular heart surgery began with aortic homograft surgery in 1985 and quickly expanded to the Ross Procedure with Ronald Elkins at the University of Oklahoma in 1986. Establishing the aortic root replacement modification as the standard for the Ross Procedure has been Dr. Stelzer's most significant contribution to the field. He has extensive experience with the more standard techniques of valve repair and replacement with tissue and mechanical devices as well as coronary artery surgery including multiple arterial grafting. Dr. Stelzer uses minimally invasive approaches to valve and coronary surgery when appropriate.
His experience with autografts and homografts led to an invitation to participate in 1992 as a principal investigator in the initial clinical trial of the Medtronic Freestyle(TM) Valve, one of three stentless porcine valves now approved by the FDA. His work with this valve has been presented at international meetings, and he has participated in numerous training programs for surgeons both in Europe and America. Dr. Stelzer has served on the faculties at Cornell-New York Hospital and the University of Oklahoma. Prior to joining the cardiac team at Mount Sinai in 2007, he was an attending cardiothoracic surgeon at Lenox Hill Hospital for seven years and then at Beth Israel Hospital for eleven years. He served as president of the New York Society of Thoracic Surgery for the academic year 2006-2007.
Dr. Stelzer has been an invited lecturer at meetings around the world on the basis of his experience performing the Ross Procedure as well as homografts. He has traveled extensively to teach senior surgeons this challenging operative technique, as well as having surgeons from many other cities as well as from within New York come to watch Dr. Stelzer operate in person for "up close, one-on-one" exposure to these special valve procedures.
In his spare time, Dr. Stelzer enjoys building jigsaw puzzles (as large as 18,000 pieces) and music. He especially likes classical music by the major orchestras. He tinkers on the piano for his own amusement and even does a bit of composition now and then. He regularly sings with a close harmony (almost barbershop) quartet. Dr. Stelzer participates actively in his church's music program, where he also serves as an elder.
The state of Florida requires out-of-state professionals who are registered to provide telehealth services to display a hyperlink to the Florida Department of Health telehealth web page. This allows Florida patients who are receiving medical care by telehealth to confirm the provider's licensure and Florida registration.
Language
Position
PROFESSOR | Cardiovascular Surgery
Hospital Affiliations
Mount Sinai Morningside
The Mount Sinai Hospital