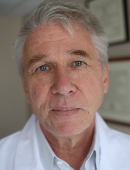 Peter R Dottino, MD
About Me
Locations
Publications
About Me
Appointments by phone only.
Service Tel (after 5PM): 1-800-841-7410
Dr. Dottino received his undergraduate Bachelor of Science (BS) degree from Manhattan College and his Medical Degree (M.D.) from Georgetown University School of Medicine. After completing an Obstetrics and Gynecology residency at SUNY Downstate Medical Center, Kings County Hospital, he went on to complete a fellowship in Gynecologic Oncology at Mount Sinai Hospital in New York City. Dr. Dottino has served as the Director of Gynecologic Oncology and Colposcopy Service at the Mount Sinai Medical center and has published numerous articles and chapters in medical journals and textbooks. He is a nationally and internationally recognized expert in operative laparoscopy and its application to the surgical management of both benign and malignant disease. He is certified by the American Board of Obstetrics and Gynecology in OB/GYN and Gynecology Oncology and is an active member in numerous professional societies and organizations.
Language
Position
CLINICAL PROFESSOR | Obstetrics, Gynecology and Reproductive Science