Profiles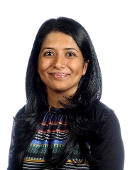 Pallavi Madhusoodhan Pillai, MD
About Me
Clinical Focus
Awards
Research
About Me
Language
Position
ASSISTANT CLINICAL PROFESSOR | Pediatrics
About Me
Language
Position
ASSISTANT CLINICAL PROFESSOR | Pediatrics
About Me
Language
Position
ASSISTANT CLINICAL PROFESSOR | Pediatrics
Clinical Focus
Coagulation Disorders
Hematologic Malignancies, Pediatric
Hypercoagulability
Pediatric Leukemia/Lymphoma
Sickle Cell Disease/Sickle Cell Anemia
Thalassemia Major And Minor
Thrombosis
Coagulation Disorders
Hematologic Malignancies, Pediatric
Hypercoagulability
Pediatric Leukemia/Lymphoma
Sickle Cell Disease/Sickle Cell Anemia
Thalassemia Major And Minor
Thrombosis
Awards
2017
Children's Oncology Group Hematologic Malignancies Translational Pilot Studies Program Grant (COG-HMTPSP)
2016
American Society of Pediatric Hematology-Oncology (ASPHO) Early Career Travel Award
2015
American Society of Hematology Research and Training Award for Fellows (ASH-RTAF)
2013
Vincent Tricomi, M.D Resident Research Award
The Brooklyn Hospital Centre
2013
The Brooklyn Pediatric Society Resident Research Award
2012
AAP Program Delegate Award to the AAP NCE
2012
Best Resident Teacher Award
The Brooklyn Hospital Centre
2011
AAP Allergy-immunology Travel Grant Recipient to the AAP NCE
Research
Role of the Mitogen Activated Protein Kinase (MAPK) pathway in relapsed pediatric B-Lymphoblastic leukemia: Prognostic and therapeutic implications.
MSH6 Haploinsufficiency at Relapse Contributes to the Development of Thiopurine Resistance in Pediatric B-Lymphoblastic Leukemia.
An Assessment of disease knowledge differences between adolescents with sickle cell disease and their parents and its correlation to quality of life.