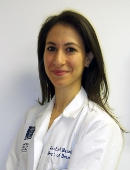 Rachel Nazarian, MD
About Me
Clinical Focus
Locations
Industry Relationships
About Me
Dr. Nazarian has been involved with the Department since 2004 and has made many contributions in the ensuing years. She earned her B.S from Brandeis University where she took a triple major. During her last year of college she worked in Clay Cockerell's Dermato-pathology lab and following graduation, she worked at the Ackerman Academy of Dermatopathology.

Dr. Nazarian served as the Interim Practice Manager for the Department of Dermatology, facilitating many changes that improved the practice. She attended Tulane University's School of Medicine where she completed her studies for her M.D. degree. While at Tulane, the Women's Dermatologic Society gave Dr. Nazarian a Medical Student Awareness Research Grant. Dr. Nazarian did her internship in Internal Medicine at St. Luke's-Roosevelt Hospital, where she entered dermatology residency program which she finished at Mount Sinai.
Dr. Nazarian is licensed to practice medicine in New York and she is board certified in dermatology.
Aside from her clinical training, Dr. Nazarian has done research with a number of outstanding and world-renowned clinicians gaining valuable experience and skills. She is the author of four books chapters on Rocky Mountain spotted fever, pityriasis versicolor, vesiculobullous diseases and child abuse, as well as five peer reviewed articles. Dr. Nazarian is a frequent presenter at the annual meetings of the American Academy of Dermatology. She is a superb clinician and a valuable trainer and educator of residents, fellows and medical students.

Dr. Nazarian performs many cosmetic procedures for patients that prefer Saturday appointments at the Cosmetic Clinic offered by the Mount Sinai Dermatology Faculty Practice.
Learn more about Dr. Nazarian in the news: http://www.prevention.com/beauty/beauty/methylparaben-ages-your-skin
Language