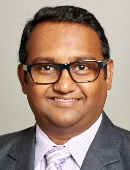 Mount Sinai Doctors
Accepting New Patients
Raghav A Murthy, MBBS
Cardiovascular Surgery (Heart Surgery), Pediatric Cardiology, Surgery
No Patient Experience Ratings
Book an Appointment
About Me
Clinical Focus
Education & Certifications
Awards
Locations
Insurance
Publications
Industry Relationships
About Me
Raghav Murthy MD, DABS, FACS is Assistant Professor of Pediatric Cardiovascular Surgery at the Icahn School of Medicine at Mount Sinai and the Mount Sinai Kravis Children's Hospital and Surgical Director of the Pediatric Heart Transplantation Program and Surgical Director of Pediatric ECMO at the Mount Sinai Kravis Children's Heart Center. He has extensive experience treating congenital heart disease in all age groups. He is also very experienced in temporary and durable mechanical circulatory support devices and heart transplantation. He has special expertise in pediatric airway surgery and complex lung surgery.
Education and Work Experience
Dr. Murthy was born in Bangalore, India. After completing medical school at the prestigious Bangalore Medical College, he pursued his general surgical residency at Henry Ford Hospital in Detroit. He went on to complete his cardiothoracic surgery residency at University of Texas Southwestern Medical Center (St. Paul Hospital, William P. Clements Jr. University Hospital, Parkland Memorial Hospital, VA North Texas Medical Care System, Children's Medical Center, Dallas). He joined the Pediatric Cardiac Surgery division at Rady Children's Hospital and University of California, San Diego in August 2015. Under the mentorship of Dr. John Lamberti, he performed extensive and complex surgery on neonates, infants, children and adults with congenital heart disease.
Clinical Expertise
He has special interest and expertise in pediatric airway surgery and complex lung surgery in children. These include segmental tracheal resections, slide tracheoplasties, complex carinal resections and reconstructions and combined repair of children with concomitant airway and heart defects.
Dr. Murthy comes to us with extensive experience in thoracic organ transplantation and mechanical circulatory support (temporary and durable assist devices). He has implanted several of these devices in children and adolescents in Dallas and San Diego. He performs heart transplantation in children of all age groups.
Dr. Murthy has authored or co-authored more than 80 articles in peer-reviewed journals, 18 book chapters, more than 15 surgical videos and more than 110 oral and poster presentations at national and international meetings. His clinical and research interests are focused on surgical management of congenital heart disease in people of all age groups, complex neonatal and infant heart surgery, robotics in thoracic surgery, mechanical assist devices and transplantation of thoracic organs.
Dr. Murthy's Areas of Clinical Focus:
Adult Congenital Heart Disease
Congenital tracheal stenosis
Mechanical circulatory support (Berlin Heart, Pedimag, Centrimag, LVAD, RVAD, BiVAD, Heartmate 2 & 3, Heartware)
Mediastinal mass
Pediatric heart Transplantation
Vascular Ring
Read "How a Baby in Heart Failure Received a Transplant as the COVID-19 Pandemic Ravaged New York City Hospitals" in the 2021 Mount Sinai Kravis Children's Hospital Report.
Language
Position
ASSISTANT PROFESSOR | Cardiovascular Surgery, ASSISTANT PROFESSOR | Pediatrics
Hospital Affiliations
Mount Sinai Queens
The Mount Sinai Hospital