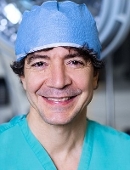 Mount Sinai Doctors
Accepting New Patients
Raja M Flores, MD
Thoracic Surgery, Surgery
No Patient Experience Ratings
Book an Appointment
About Me
Clinical Focus
Education & Certifications
Awards
Locations
Insurance
Publications
Industry Relationships
About Me
Dr. Raja M. Flores is the Chairman for the Department of Thoracic Surgery, Steven and Ann Ames Professor in Thoracic Surgery at the Mount Sinai Health System.
Dr. Flores' is a recognized leader in the field of Thoracic Surgery for his pioneering efforts in the treatment of mesothelioma. He has established VATS lobectomy, a minimally invasive approach using three small incisions, as the gold standard in the surgical treatment of lung cancer. He published two sentinel studies validating its oncological effectiveness by demonstrating equivalent survival and recurrence rates with fewer complications and shorter hospital stays when compared to standard thoracotomy. Dr. Flores implemented the current program for this procedure at Memorial Sloan-Kettering Cancer Center. He was a lead investigator in a multicenter trial of neoadjuvant alimta/cisplatin, extrapleural pneumonectomy, and high-dose radiation which is designed to improve outcomes.
Dr. Flores currently has one of the largest VATS lobectomy experiences in the world. He has published this data and has presented it at numerous national and international meetings.
Dr. Flores' additional research interests are based on numerous past projects relating to the multimodality management of malignant pleural mesothelioma, as well as innovative surgical techniques in minimally invasive thoracic surgery for lung cancer. He has led a number of major studies, including clinical trials of neoadjuvant gemcitabine and cisplatin followed by extrapleural pneumonectomy and high dose radiation. Dr. Flores is the Principle Investigator of the Libby Epidemiology Research Program, a $4.8 million RO1 grant funded by the Agency for Toxic Substances and Disease Registry (ATSDR). The major goals of the research are to address questions regarding the health consequences of asbestos exposure (Libby Amphibole).
After earning an undergraduate degree in biochemistry from New York University, Dr. Flores attended the Albert Einstein College of Medicine, receiving his Medical Degree in 1992. He then spent fiveyears at Columbia-Presbyterian Medical Center pursuing his General Surgery Internship and General Surgery Residency. He then completed a Thoracic Oncology Clinical Research Fellowship at Brigham and Women's Hospital/Dana Faber Cancer Institute/CALGB in Boston, and his Cardiothoracic Surgery Residency at Brigham and Women's Hospital, Harvard Medical School. He also received a Masters in Biostatistics from Columbia University. Dr. Flores is a member of numerous medical and surgical societies and serves on several editorial boards.

In the News
Dr. Flores discusses mesothelioma in the NY Daily News feature, The Daily Checkup.
Dr. Raja M. Flores New York's strength, then and now NEW YORK DAILY NEWS - SEP 10, 2021 https://www.nydailynews.com/opinion/ny-oped-new-yorks-strength-then-and-now-20210910-znhhcb4srzejtkdgkoutvqewda-story.html
Raja Flores, MD, discusses how banning asbestos is a giant leap forward for Biden's Cancer Moonshot. [The Hill]
Mount Sinai Achieves Highest Rating From Society of Thoracic Surgeons for Ground-Breaking Esophagectomy Program
The Mount Sinai Health System's esophagectomy program has received a three-star (excellent performance) overall composite score from the Society of Thoracic Surgeons (STS). According to STS, only 13 institutions in the United States and Canada hold the three-star rating, which denotes the highest category of quality, for esophagectomy surgery. Esophagectomy is the main surgical treatment for esophageal cancer. Mount Sinai's esophagectomies incorporate a surgical innovation by Raja Flores, MD, Chair of Thoracic Surgery at the Mount Sinai Health System, who pioneered a simple yet highly effective change in the surgical approach.
Read the news release and learn more on Mount Sinai's Physician Channel
Watch Dr. Flores discuss the rating and its significance
Read more in Becker's Hospital Review
Language
Position
PROFESSOR AND SYSTEM CHAIR | Thoracic Surgery
Hospital Affiliations
Mount Sinai Beth Israel
Mount Sinai Morningside
Mount Sinai Brooklyn
Mount Sinai Queens
The Mount Sinai Hospital
Mount Sinai West
Download the CV