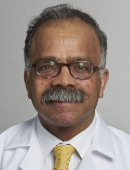 Raja Subramaniam, PhD
About Me
Education & Certifications
Awards
Publications
About Me
Raja Subramaniam, Ph.D., is the Chief of Clinical Physics in Radiology Department at Mount Sinai Medical Center. He also holds the position of Associate Professor in Radiology at the Icahn School of Medicine at Mount Sinai Medical Center.
Dr. Subramaniam received his Ph.D. in Chemical Physics from the University of Maryland, College Park. He went on to do a postdoctoral fellowship in Medical Physics at Johns Hopkins University, School of Medicine. Before coming to Mount Sinai, he served as the Director of Radiation Safety and Chief Physicist in Radiology Department at the SUNY Downstate - Long Island College Hospital.
Dr. Subramaniam has over twenty years of experience in Physics of Radiologic Imaging, Nuclear Medicine and Radiation Safety. He is board certified by the American Board of Radiology in Diagnostic Radiologic Physics, Medical Nuclear Physics and Therapeutic Radiologic Physics. He is a member of American Association of Physicist in Medicine(AAPM) and , Radiological and Medical Physics Society of New York, Inc (RAMPS).
Dr. Subramaniam's Clinical interest includes Computed Tomography, Mammography, MRI, Image Quality Optimization and teaching medical physics to Radiology residents.
Language
Position
PROFESSOR | Diagnostic, Molecular and Interventional Radiology
Research Topics
Computed Tomography, Imaging, Magnetic Resonance Imaging