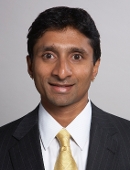 Rajesh Vedanthan, MD
About Me
Awards
Industry Relationships
About Me
Rajesh Vedanthan, MD, MPH graduated with distinction from Swarthmore College, where he was awarded the Ivy Award for top male student in the graduating class. He subsequently won a Marshall Scholarship and studied towards a degree in Human Sciences at Oxford University. He earned his Master of Public Health degree in 2000 from the University of California, Berkeley, and his medical degree in 2002 from the University of California, San Francisco, where he was inducted into the Alpha Omega Alpha society and the Gold-Headed Cane society. He won a Paul and Daisy Soros Fellowship during this time and now serves in the leadership of the Soros Fellowship Alumni Association. After completing his residency in Internal Medicine at Brigham and Women's Hospital, he spent one year in Eldoret, Kenya, as the Team Leader of the Indiana University-Kenya Partnership. He subsequently completed his Fellowship in Cardiovascular Medicine at Mount Sinai Medical Center.
Dr. Vedanthan is currently Associate Professor in Medicine (Cardiology) at Mount Sinai School of Medicine. His area of research interest is global cardiology, global health delivery, capacity-building, and the intersection of health and development.
In addition to his hospital practice, Dr. Vedanthan treats ambulatory patients with a broad spectrum of cardiac conditions, including hypertension, high cholesterol, coronary artery disease, congestive heart failure, valvular heart disease, and heart rhythm abnormalities.
Dr. Vedanthan is Associate Director of Cardiac Rehabilitation for the Mount Sinai Heart Hospital. Dr. Vedanthan is certified by the American Board of Internal Medicine in both Cardiovascular Disease and Internal Medicine, and he is also Board Certified in Nuclear Cardiology. He is a long-standing member of the American Heart Association, the American College of Cardiology, and the American Medical Association.
Dr. Vedanthan was the Theme Editor for the Mount Sinai Journal of Medicine issue on "Global Health Delivery and Implementation Science." He also is an Associate Editor of the journal Global Heart, Associate Editor of the journal Annals of Global Health, and Assistan Editor for the Journal of the American College of Cardiology.
Language
Position
ADJUNCT ASSOCIATE PROFESSOR | Medicine, Cardiology, ADJUNCT ASSOCIATE PROFESSOR | Population Health Science and Policy