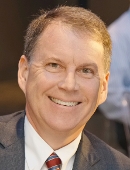 Ramon Parsons, MD, PhD
About Me
Video
Education & Certifications
Awards
Research
Locations
Publications
About Me
Ramon E. Parsons, MD, PhD, is Director of The Tisch Cancer Institute at the Icahn School of Medicine at Mount Sinai and Ward-Coleman Chair in Cancer Research. He is also Director, Mount Sinai Cancer, Mount Sinai Health System, and Chair of the Department of Oncological Sciences at the Icahn School of Medicine.
In 2017, Dr. Parsons was appointed Director of The Tisch Cancer Institute—a National Cancer Institute-designated cancer center—and Director of Mount Sinai Cancer after serving as the co-Leader of the Cancer Mechanisms program and the Deputy Director of TCI. Dr. Parsons joined the Icahn School of Medicine in 2013.
Previously, he was on the faculty of the departments of Pathology and Medicine at Columbia University. He was named Assistant Professor in 1995 and later became the Avon Foundation Chair for Breast Cancer Research in 2002. He was named Professor in 2007 and Leader of its Breast Cancer Program at the Herbert Irving Comprehensive Cancer Center in 2005. Dr. Parsons is a member of the National Academy of Medicine, American Society for Clinical Investigation, American College of Physicians. He was Chair of the AACR Special conferences committee for two terms from 2011-2017, which initiated and planned more than 75 scientific meetings on different cancer-related topics.
Dr. Parsons maintains an active laboratory and has received multiple awards for his research, including the 2011 American Association for Cancer Research (AACR) Outstanding Investigator Award for Breast Cancer Research. He is internationally recognized as an expert in the fields of cancer genetics and signal transduction with an emphasis on tumor suppressor genes including PTEN.
Language
Position
DIRECTOR, TISCH CANCER INSTITUTE, PROFESSOR & CHAIR | Oncological Sciences, PROFESSOR | Medicine, Hematology and Medical Oncology
Research Topics
Cancer, Cancer Genetics, Chromatin, Diabetes, Epigenetics, Epithelial Cells, Gene Regulation, Growth Factors and Receptors, IGF-1 Receptor, Insulin, Insulin Receptor, Knockout Mice, Lipid Signaling, Mass Spectrometry, Microarray, Molecular Biology, Oncogenes, Phosphorylation, Protein Kinases, Protein Phosphatases, Tumor Suppressor Genes, Tumorigenesis
Multi-Disciplinary Training Areas
Cancer Biology [CAB], Disease Mechanisms and Therapeutics (DMT)