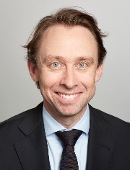 Video Visit Available
Accepting New Patients
Mount Sinai Doctors
Accepting New Patients
Reade A De Leacy, MD
Radiology, Neuroradiology
Book an Appointment
About Me
Clinical Focus
Education & Certifications
Awards
Locations
Insurance
Publications
Patient Experience Rating
Industry Relationships
About Me
Reade De Leacy, MD, is an Associate Professor of Neurosurgery and Radiology in the Cerebrovascular Center at The Mount Sinai Hospital, the Director of the Neurointerventional Spine program and Co-director of the Neuroendovascular surgery fellowship at Mount Sinai. Additionally, he serves as Director of Cerebrovascular Services at Mount Sinai Queens.
A specialist in diagnostic and interventional neuroradiology, Dr. De Leacy is board certified in both diagnostic radiology and neuroradiology by the American Board of Radiology. He completed his fellowship trainings in neuroendovascular surgery/neurointerventional radiology and separately diagnostic neuroradiology at The Mount Sinai Hospital. He also completed fellowship training in interventional radiology at St. Vincent's Hospital in Melbourne, Australia and in musculoskeletal MRI and sports medicine intervention with Qscan Radiology Clinics in Queesnland, Australia.
Dr. De Leacy obtained his medical degree and graduated with honors from the University of Queensland, Australia. In 2012, he completed his specialist training becoming a fellow of the Royal Australian and New Zealand College of Radiologists, where he earned the prestigious Uhr Clarke Bursary and HR Sear Prize awards as the highest-ranked graduate from both diagnostic radiology and radiation oncology in Australia, New Zealand, and Singapore.
Dr. De Leacy has published multiple peer-reviewed journal articles and book chapters in interventional neuroradiology and neuroendovascular surger. He has served on the executive board of the Society of Neurointerventional Surgery (SNIS) and is an associate editor for the Journal of Neurointerventional Surgery (JNIS). He lectures and teaches across the world on neurovascular neurovascular and spine interventional techniques.
Dr. De Leacy specializes in the endovascular treatment of cerebrovascular disorders including cerebral aneurysms, arteriorvenous malformations of both the brain and head and neck, dural arteriovenous malformations of the brain, acute stroke and carotid disease including carotid stenosis. He is experienced with all head and neck vascular intervention including tumor embolization and scelrotherpay for lymphatic and venous malformations. Additionally he has extensive expereince in complex interventional spine procedures for vertebral fractures, tumors and other procedures for low back pain including indirect spinal decompression, sacroliliac joint fusion and spinal cord stimulation.
In 2020, Dr. De Leacy was a recipient of the Mount Sinai Cullman Family Award for Excellence in Physician Communication.
IN THE NEWS
EMT Who Suffered Stroke Leaves New York City Hospital Just in Time for Thanksgiving (WABC-TV)

Be Well: Understanding Strokes and Knowing the Warning Signs (Cheddar)

Radio Interview with HellasFM
Language
Position
ASSOCIATE PROFESSOR | Neurosurgery, ASSOCIATE PROFESSOR | Diagnostic, Molecular and Interventional Radiology
Hospital Affiliations
Mount Sinai Beth Israel
Mount Sinai Morningside
Mount Sinai Brooklyn
Mount Sinai Queens
The Mount Sinai Hospital
Mount Sinai West
Research Topics
Imaging, Spine, Stroke