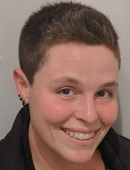 Rebecca Lr Powell, PhD
About Me
Research
Locations
Publications
About Me
Dr. Powell received her Bachelor's of Science degree at the University of Toronto and her Ph. D. in Microbiology at the Sackler Institute of Graduate Biomedical Sciences, New York University School of Medicine. Dr. Powell's doctoral research focused on the genomic analysis of HIV in the epicenter of the HIV pandemic, West-Central Africa. While testing for HIV and collecting blood samples from study participants in Cameroon, she developed a low-cost method to rapidly detect HIV superinfection. This assay enabled the discovery that among this normal-risk population, superinfection was as common as primary infection, facilitating virus recombination and strongly impacting the genetic diversity of HIV in this region. Her further study of the impact of HIV superinfection on the host immune response led to the finding that these infections tended to broaden the HIV-specific neutralizing antibody response, suggesting inclusion of various HIV subtypes in a vaccine may do the same. Dr. Powell's early post-doctoral research was performed at the International AIDS Vaccine Initiative (IAVI) Design and Development Lab, where she was part of the Candidate Evaluation team. Her work at IAVI involved the design and testing of replicating viral vector vaccines displaying HIV Envelope. She developed various antibody-based assays that allowed detailed evaluation of candidate vaccines in small and large animal studies, identifying several Vesicular Stomatitis Virus candidate vaccines in particular as safe and highly immunogenic, which are currently in clinical trials.
The overarching goals of Dr. Powell's research program at the Icahn School of Medicine at Mount Sinai are to understand the human milk immune response to infection and vaccination, and ultimately, to design maternal vaccines aimed to enhance this response.
The R. Powell Lab at the Icahn School of Medicine at Mount Sinai currently has several active projects aimed to fill knowledge gaps about human milk immunology and the milk immune response to infectious disease and vaccination:
1) Fc-mediated antibody function against HIV by relevant primary cells, with particular focus on antibody-dependent cellular phagocytosis (ADCP) by human milk leukocytes and its role in minimizing mother-to-child transmission (MTCT) of HIV via breastfeeding
2) Collaborative work with the Microbiology department to analyze the human milk immune response to seasonal influenza vaccination
3) Comprehensive assessment of SARS-CoV-2-reactive antibodies in human milk to determine their potential as a COVID-19 therapeutic and as a means to prevent infection of breastfed babies
4) Verification and assessment of an entero-mammary immunological link in Rhesus Macaques in order to provide critical data for designing maternal vaccines to eliminate mother-to-child-transmission of HIV via breastfeeding
Dr. Powell is also a certified lactation counselor, and lives in Brooklyn with her partner and 3 children.
Language
Position
ASSISTANT PROFESSOR | Medicine, Infectious Diseases
Research Topics
Coronavirus, HIV/AIDS, Immunology, Infectious Disease, Influenza Virus, Mucosal Immunology, Vaccine Development