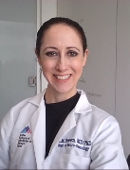 Video Visit Available
Accepting New Patients
Mount Sinai Doctors
Accepting New Patients
Rebecca M Brown, MD, PhD
Neurology
No Patient Experience Ratings
Book an Appointment
About Me
Clinical Focus
Education & Certifications
Research
Locations
Insurance
Publications
Industry Relationships
About Me
Rebecca M. Brown, MD, PhD, is Assistant Professor in the Department of Neurology, Medicine (Division of Hematology-Oncology, and Neurosurgery. She is a neuro-oncologist who welcomes patients with primary and metastatic tumors of the brain, spinal cord, nerves, and meninges, as well as neurologic complications of systemic cancer.
Dr. Brown studied biology at the University of Chicago and subsequently earned her PhD in neuroscience from The University of Texas in Austin in 2007 followed by a 2-year post-doctoral fellowship in human performance research with the Center for Strategic and Innovative Technologies. She completed medical school in 2013 at the UT Southwestern Medical Center in Dallas, during which time she researched the cellular origins of cutaneous neurofibromas associated with NF1 and shadowed doctors at pediatric and adult NF clinics in Dallas and Boston. Dr. Brown finished her medical internship at East Tennessee State University in 2014 and her neurology residency at the Mount Sinai Icahn School of Medicine in 2017. In residency, she was awarded an NIH-funded R-25 research grant to study ways to recover NF1 function using gene editing technology. Her training completed with a neuro-oncology fellowship at Memorial Sloan Kettering Cancer Center in 2019. There, she was awarded a T-32 NIH training grant to grow human malignant peripheral nerve sheath tumors (MPNSTs) from NF1 patients in immunocompromised mice, and used this model to test different drug therapies.
Dr. Brown is board certified in neurology and neuro-oncology. Her approach to patient care is to be honest, open, and understanding of the challenges faced by people dealing with these types of tumors. Her research focuses on the neurofibromatoses: NF1, NF2, and NF3 (schwannomatosis), for which she endeavors to identify new FDA approval. She is building an adult NF clinic with collaborative input from other specialties—a team approach that best serves the needs of NF patients. She also studies treatment of primary brain tumors including gliomas.
Dr. Brown is a certified NY State Medical Marijuana Provider.
Dr. Brown conducts visits in person or via telemedicine based on the unique needs of each patient. Please call her office to schedule an appointment. Dr. Brown speaks English and French.
Language
Position
ASSISTANT PROFESSOR | Neurology, ASSISTANT PROFESSOR | Medicine, Hematology and Medical Oncology, ASSISTANT PROFESSOR | Neurosurgery
Hospital Affiliations
Mount Sinai Morningside
Mount Sinai Beth Israel
Mount Sinai Brooklyn
Mount Sinai Queens
The Mount Sinai Hospital
Mount Sinai West
Research Topics
Cancer