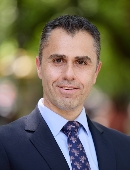 Video Visit Available
Accepting New Patients
Mount Sinai Doctors
Accepting New Patients
Reza Mehrazin, MD
Urology
Book an Appointment
About Me
Clinical Focus
Education & Certifications
Awards
Research
Locations
Insurance
Patient Experience Rating
Industry Relationships
About Me
Dr. Reza Mehrazin is Associate Professor of Urology, Icahn School of Medicine at Mount Sinai. Dr. Mehrazin joined the surgical staff at Mount Sinai School of Medicine after completing a two-year Society of Urologic Oncology (SUO) accredited fellowship at a highly prestigious National Cancer Institute (NCI) designated cancer center, Fox Chase Cancer Center. Prior to his fellowship, he completed his general surgery internship and urology residency at University of Tennessee Health Science Center.
Dr. Mehrazin's clinical expertise is in open, laparoscopic, and robotic surgical techniques for the treatment of various urologic cancers, which allows him to tailor a specific treatment plan based on individual patient need and preferences. He is one of the few urologists in the region who has extensive training and certified in performing minimally invasive organ preserving and reconstructive techniques to preserve function and quality of life for patients with kidney cancer and bladder cancer. He performs both robotic (using da Vinci® technology) and open cystectomies with continent urinary diversion (new bladder), nephron-sparing (kidney preserving) partial nephrectomy, nerve-sparing prostatectomy, partial or total adrenalectomy, retroperitoneal lymph node dissection for testicular cancer, and endoscopic nephron-sparing management of patients with upper tract urothelial carcinomas. He also has a special clinical interest in the management of patients with metastatic and advanced kidney cancer with tumors extending into the surrounding organs or major vessels, as well as salvage bladder surgeries following radiation therapy.
His research interests revolve around novel clinical and surgical treatment of kidney and bladder cancer. Over 300 of his abstracts have been presented at international, national, and regional scientific meetings. He has authored and co-authored over 130 scientific papers which are published or currently in press in major, high impact journals.
In addition he has authored several text book chapters on robotic surgical techniques, kidney tumors, bladder cancer, prostate cancer, upper tract urothelial carcioma, and adrenal tumors. He is a member of editorial board for several medical journals and the chief editor of Genitourinary Sarcoma chapter of the American Urological Association. He is also the Director of Society of Urologic Oncology fellowship program at Mount Sinai Hospital.
He takes a multi-disciplinary approach and works closely with Medical Oncology and Radiation Oncology physicians at Mount Sinai Health Care System to deliver comprehensive care and support for each patient.
He is a member of the American Urological Association, American College of Surgeons, Society of Urologic Oncology and American Society of Clinical Oncology.
Dr. Mehrazin's Patients Stories:
Mets' Baseball Team voice Howie Rose, reveals bladder cancer battle
NewYork Post:
https://nypost.com/2023/02/01/mets-voice-howie-rose-reveals-bladder-cancer-battle/?fbclid=PAAaY_YAwbUMCXOfa44TRglM7C5inSf8NDrMf5S-pY71HWbwWcmKbhxuEBNY8
Member of New York Police Department with Kidney Cancer:
https://www.mountsinai.org/about/patient-stories/finding-the-best-doctor-through-a-best-friend
BLADDER CANCER
Dr. Mehrazin speaks about Robotic Cystectomy http://blog.mountsinai.org/blog/robotic-cystectomy-vs-open-cystectomy/
KIDNEY CANCER or Renal Cell Carcinoma:
NY Daily News:
Dr. Mehrazin discusses kidney cancer signs and symptoms of new advances in treatment http://www.nydailynews.com/life-style/daily-checkup-kidney-cancer-attention-article-1.2385577
Dr. Mehrazin comments discusses his research about close monitoring of renal tumors https://www.mountsinai.org/about/newsroom/2015/close-monitoring-of-renal-tumors-may-provide-alternative-to-surgery
Language
Position
ASSOCIATE PROFESSOR | Urology
Hospital Affiliations
Mount Sinai Beth Israel
Mount Sinai Morningside
Mount Sinai Queens
The Mount Sinai Hospital
New York Eye and Ear Infirmary of Mount Sinai
Mount Sinai West
Research Topics
Anti-Tumor Therapy, Cancer, Imaging, Kidney, Patient Care, Patient Centered Outcomes Research, Prostate, Robotic Surgery, Technology & Innovation