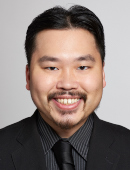 Video Visit Available
Accepting New Patients
Mount Sinai Doctors
Accepting New Patients
Richard G Chang, MD, MPH
Rehabilitation and Physical Medicine
Book an Appointment
About Me
Clinical Focus
Education & Certifications
Locations
Insurance
Patient Experience Rating
Industry Relationships
About Me
Dr. Chang is a Fellowship trained, Board certified Physical Medicine and Rehabilitation (PM&R) doctor, who specializes in nonsurgical Sports and Interventional Spine Medicine. A Brooklyn native, Dr. Chang is an alumnus of Brooklyn College's BA/MD and Macaulay Honors College programs, majoring in Sociology with honors and a Phi Beta Kappa member. His physiatry residency was completed at the Icahn School of Medicine at Mount Sinai Hospital, where he had the honor of serving as Chief Resident in his last year. Prior to this, he completed his preliminary internal medicine year at Maimonides Medical Center. Dr. Chang went on to complete his fellowship training in Interventional Spine and Sports Medicine at the Hospital for Special Surgery. During his fellowship year, he served as team physician to St. John's and St. Peter's Universities, specializing in basketball, soccer, lacrosse, and fencing injuries.
Before returning to Mount Sinai, from 2015 to September 2017, he served as faculty of the Sports Division of the department of Orthopaedic Surgery & Rehabilitation Medicine. He was also an Assistant Professor and helped establish and co-found the department's first accredited non-surgical Sports fellowship program in the Physiatry division at SUNY Downstate Medical Center, serving as its Associate Fellowship director, and was team physician of several of Brooklyn's PSAL (Public School Athletic League) high schools and NCAA Division III College, SUNY Maritime. He continues to provide coverage as tent medical captain of the NYC Marathon and inter-borough half-marathons and as ringside physician to USA Boxing Metro, World Kickboxing Association, and the Daily News Golden Gloves boxing tournament.
Dr. Chang's goal is to restore patients' maximum function, to decrease pain, and improve their quality of life through a detailed, comprehensive physical exam and diagnosis, combined with targeted exercise and injury prevention counseling, physical therapy, or rehabilitation, with adjunct non-surgical treatments.
In his leisure time, Dr. Chang enjoys drawing, meditation, practicing kung-fu, archery, and is an avid movie watcher.
Subspecialty:
Dr. Chang specializes in non-operative athletic and sports injuries, arthritis and tendonitis conditions, interventional spine, musculoskeletal ultrasound, and regenerative medicine/platelet rich plasma injections and procedures.
He is actively involved in musculoskeletal education and research. He has research interests in the use of platelet rich plasma in tendinopathic and osteoarthritic conditions, musculoskeletal ultrasound, sports and exercise injury prevention, and efficacy, healthcare, and policy issues affecting PM&R, sports, and interventional spine medicine.
He has served as Northeast Delegate to the Resident-Fellow Council of the Association of Academic Physiatrists and Vice President, Medical Student Outreach, Workshop, and IT Manager positions to the NY Society of PM&R's (NYSPMR) Resident Council. He is still actively involved in these organizations, and is also a member of the American Academy of Physical Medicine and Rehabilitation, Association of Academic Physiatrists, Spine Injection Society, American Medical Society for Sports Medicine, American Institute of Ultrasound in Medicine.
He serves as a volunteer committee member on the Health Policy and Legislative Committees of the New York Society of PM&R, American Academy of PM&R, and Spine Intervention Society.
Certifications:
Physical Medicine & Rehabilitation
Clinical Focus:
• Sports Injuries and Prevention
• Exercise and Rehabilitation Medicine
• Spine care
• Neck Pain
• Shoulder Pain
• Elbow Pain
• Wrist/Hand Pain
• Low back Pain
• Hip Pain
• Knee Pain
• Achilles/Foot Pain
Procedures:
• Diagnostic and interventional musculoskeletal ultrasound
• Ultrasound guided nerve injections (for example, carpal tunnel, cubital tunnel nerve injections)
• Hyaluronic acid/viscosupplementation injections (For example, Hyalgan, Orthovisc, etc)
• Fluoroscopic (X-ray) guided cervical, thoracic, and lumbar spine and peripheral joint injection procedures
• Regenerative medicine/Platelet rich plasma tendon and joint injections
Language
Chinese (Mandarin), English, Spanish
Position
ASSISTANT PROFESSOR | Rehabilitation and Human Performance
Hospital Affiliations
Mount Sinai Morningside
Mount Sinai Beth Israel
Mount Sinai Brooklyn
The Mount Sinai Hospital
Mount Sinai West