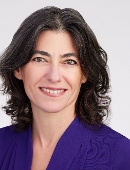 Rita Z Goldstein, PhD
About Me
Education & Certifications
Awards
Research
Locations
Publications
About Me
Dr. Goldstein is the Mount Sinai Professor in Neuroimaging and Addiction at the Departments of Psychiatry and Neuroscience/Friedman Brain Institute (FBI) in the Icahn School of Medicine at Mount Sinai (ISMMS). Dr. Goldstein directs the Neuroimaging of Addictions and Related Conditions (NARC) Research Program, and previously the Brain Imaging Center (BIC) at ISMMS, both internationally recognized for their use and development of innovative multimodality neuroimaging methods (including MRI, PET, EEG/ERP) for the translational study of brain morphology and function.
Nationally and internationally known for her neuroimaging and neuropsychological studies in drug addiction, Dr. Goldstein formulated a theoretical model known as Impaired Response Inhibition and Salience Attribution (iRISA). Multiple neuroimaging modalities—including MRI, EEG/ERP, PET—and neuropsychological tests are used to explore the neurobiological underpinnings of iRISA in drug addiction and related conditions. This model has drawn considerable scientific attention (exceeding 3,000 citations for a review published in the Am J Psychiatry in 2002 and 2,000 for another review published in Nature Reviews Neuroscience in 2011). An important application of Dr. Goldstein's research is to facilitate the development of empirically-validated neuroscience informed intervention modalities that would improve cognitive and emotional function, leading to better treatment outcomes, in drug addiction and other chronically relapsing disorders of self-regulation. For this purpose, the lab has been using neuroscience-based knowledge/results to inform, develop and test potential interventions in people seeking treatment for addiction.
Dr. Goldstein is a recognized leader in the neuroimaging study of the cognitive and emotional processes underlying human drug addiction. Her research interests include the elucidation of the role of dopamine and prefrontal cortical deficits in iRISA (Impairments in Response Inhibition and Salience Attribution or the compromised ability to change ongoing willed-behavior in response to an emotionally salient feedback) in drug addiction and other disorders of self-control. Dr. Goldstein's interests also include pharmacological fMRI, real-time neurofeedback using Brain Computer Interface, and brain stimulation (e.g., with tDCS). She has also been exploring the contribution of individual differences, including recency of drug use, sex differences and polymorphisms in monoaminergic genes, to addiction and aggression, with a focus on the neural mechanisms underlying reinforcement learning, reconsolidation, extinction, habit formation, choice and decision-making, and self-awareness and insight into severity of illness. Naturalistic studies (including movie watching in fMRI, natural language processing with AI/ML, and continuous behavioral measures with EMAs and actigraphy) have recently been added to the lab's arsenal of scientific tools.
Dr. Goldstein has authored or co-authored >150 highly-cited, peer-reviewed manuscripts and book chapters, focusing on the role of the prefrontal cortex in drug addiction. Her research has been independently funded by several federal and private agencies, with total funding of more than $23 million as a principal or multiple investigator or program director.
Dr. Goldstein is fellow of the American College of Neuropsychopharmacology (ACNP) since 2015, receiving the prestigious Joel Elkes Research Award in 2012 and the Jacob P. Waletzky Award in 2013.
Dr. Goldstein has mentored numerous trainees, from junior faculty and post-doc fellows to graduate, undergraduate and high-school students. Several of her students/post-doc fellows received NIH fellowships under her primary or co-sponsorship (e.g., F and/or K series), receiving numerous other awards and recognition in the field. Dr. Goldstein's trainees have published numerous 1st authorship manuscripts in prestigious psychiatry and neuroscience journals (including PNAS, JAMA Psychiatry, J Neurosci, Brain, Biological Psychiatry, Cerebral Cortex, etc.) and many of them are now leading their own independent labs as principal investigators (e.g., at ISMMS, Stony Brook Univ., Univ. of Minnesota, Univ. of Rutgers, Univ. or Montreal).
Dr. Goldstein earned an undergraduate degree from Tel Aviv University in Israel. She received her PhD in Health Clinical Psychology from the University of Miami after completing a yearlong internship in clinical neuropsychology at the Long Island Jewish Medical Center. She then completed her postdoctoral training with Nora Volkow and Joanna Fowler on brain imaging and alcohol abuse through a fellowship from the National Institutes of Health at Brookhaven National Laboratory.
For description of research in the lab and recent publications see http://icahn.mssm.edu/research/programs/narc
Language
Position
PROFESSOR | Psychiatry, PROFESSOR | Neuroscience
Research Topics
Addiction, Atherosclerosis, Basal Ganglia, Behavioral Health, Biomechanics/Bioengineering, Biomedical Sciences, Biostatistics, Brain Imaging, Cardiovascular, Cerebral Cortex, Cognitive Neuroscience, Computational Neuroscience, Diffusion Tensor Imaging, Electrophysiology, Genetics, Imaging, MRI, Magnetic Resonance Imaging, Neuromodulation, Neuroscience, Positron Emission Tomography, Prefrontal Cortex, Psychiatry
Multi-Disciplinary Training Areas
Neuroscience [NEU]