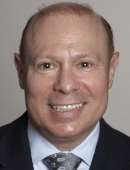 Video Visit Available
Accepting New Patients
Mount Sinai Doctors
Accepting New Patients
Robert Rosenson, MD
Cardiovascular Disease (Heart Disease), Cardiology (Heart)
Book an Appointment
About Me
Clinical Focus
Education & Certifications
Awards
Locations
Insurance
Publications
Patient Experience Rating
Industry Relationships
About Me
Robert S. Rosenson, MD
FACC, FACP, FAHA, FNLA, FACCP (inactive)
Robert S. Rosenson, MD, is Professor of Medicine at the Icahn School of Medicine at Mount where he serves as Director of Cardiometabolic Disorders. He is a Fellow of the American Heart Association Council on Epidemiology and Prevention, Fellow of the American Heart Association Council on Arteriosclerosis, Thrombosis and Vascular Biology, Fellow of the National Lipid Association and a past Fellow of the American College of Chest Physicians (inactive). He has been the recipient of a number of awards and honors, including the Ground-Breaking Doctors Award from Chicago magazine. Dr. Rosenson is Co-Editor-In-Chief, Cardiovascular Drugs and Therapy, effective February 1, 2016 and has been elected to the European Academy of Sciences.
Dr. Rosenson earned his medical degree from Tulane University in New Orleans, Louisiana where he conducted research on prostaglandin metabolism in coronary arteries. This work was recognized when he was awarded the Querens-Rives-Shore Award for best thesis in Cardiology. He then served his residency in medicine at Brigham and Women's Hospital in Boston, Massachusetts. He later completed a fellowship in cardiovascular medicine at the University of Chicago that was followed by an additional year of training as a Research Associate in lipoprotein metabolism.
Dr. Rosenson is a Diplomate of the American Board of Internal Medicine, with a subspecialty in cardiovascular disease, the National Board of Medical Examiners, and National Lipid Association. He currently serves on a number of committees for professional societies. He has served on nine committees for the American College of Cardiology, and he served as a member of the Expert Document Committee for the American College of Cardiology and ACCF Representative to the ADA Aspirin Therapy in Diabetes Position Statement. He has been extensively involved with the National Lipid Association where he serves a National Board Member and Northeast Lipid Association Board Member. Dr. Rosenson served as Co-Chair for the task force on HDL biology, and he is the current Chair of the Statin Safety Expert Muscle Document Committee. Dr. Rosenson led three international working groups on HDL that resulted in seminal articles on HDL nomenclature, HDL and macrophage cholesterol, and HDL functionality.
Dr. Rosenson has been involved in numerous grant-supported research investigations studying the effects of lipid-lowering therapy, hypoglycemic therapy, and antihypertensive agents in inflammation, thrombogenesis, and rheology. His laboratory was the first to demonstrate that statins reduce pro-inflammatory cytokine production. He has continued this work through mechanistic studies on inflammatory markers with studies on fenofibrate. Most recently, he has conducted research with selective inhibitors of inflammatory pathways such as lipoprotein-associated phospholipase A2, and secretory phospholipase A2. He has made important contributions concerning the prognostic significance of lipoprotein subclasses in coronary atherosclerosis, cardiovascular events and prediction of type 2 diabetes. He has served as Principal Investigator on a number of NIH-funded research studies, pharmaceutical-sponsored drug trials, and multicenter studies. He served as Global Principal Investigator of the PLASMA I, PLASMA II and FRANCIS trials. He has authored 230 peer-review journal articles, and nearly 600 book chapters, abstracts, and electronic publications for Up To Date Medicine.
Language
Position
PROFESSOR | Medicine, Cardiology
Hospital Affiliations
Mount Sinai Queens
The Mount Sinai Hospital
Download the CV