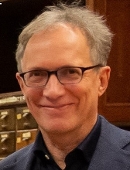 Roberto Lucchini, MD
About Me
Education & Certifications
Locations
Publications
Industry Relationships
About Me
Since 2012 Dr. Lucchini has been Director of the Division of Occupational Medicine, Professor of Medicine, Director of the World Trade Center, Data Center and Director of NIOSH Education and Research Center for New York and New Jersey. He is also Associate Professor at the University of Brescia, Italy, Division of Occupational Medicine.

His research is mainly focused on the health effects of neurotoxic chemicals and the biological mechanisms by which metals, persistent organic pollutants, particulate matter in the environment and workplace cause injury in the human nervous system. Dr. Lucchini and his team have developed quantitative, state-of-the-art testing methodologies and advanced computerized instruments to assess an array of neurological functions including cognitive, motor, behavioral and sensory functions. He and his team have conducted studies in occupational groups, children and elderly with European and US based funding.
New research topics in the New York Metropolitan Area are focused on the assessment of health outcomes among the World Trade Center responders who were exposed to a variety of chemical hazards and psychological trauma at Ground Zero. Further work convers metal exposed welders, "sandhog" tunnel workers exposed to silica, and transportation workers and community exposed to diesel.
Language
Position
ADJUNCT PROFESSOR | Environmental Medicine & Public Health, ADJUNCT PROFESSOR | Medicine, Pulmonary, Critical Care and Sleep Medicine