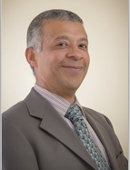 Romeo E Morales, MD
About Me
Clinical Focus
Publications
About Me
Dr. Romeo Morales is a Clinical Instructor at The Icahn School of Medicine at Mount Sinai. Dr. Morales received his BA degree in 1986 from the University of Delaware, a Masters in Science in 1990 from Northeastern University, his MD degree in 1997 from Yale University and completed his residency in Dermatology in 2000 at the University of Michigan. From 2000-2002 Dr. Morales was a medical staff fellow in Dermatology at the NIH. Dr. Morales has been the recipient of a number of awards including a research fellowship at Brigham and Women's Hospital in Boston (1997); the American Academy of Family Physician's Recognition of Active Teacher in Family Medicine (2004, 2006 and 2007); the William E. Clark, MD Family Practice Adjunct Faculty Teaching Award for Excellence and Dedication in Teaching Family Medicine to Residents (2004, 2012) and an invitation to participate in the Leadership Forum of the American Academy of Dermatology (2007). Currently, he is an Associate Dermatologist in a private practice in New Hyde Park, NY and an Attending at New York Hospital Queens. Dr. Morales is licensed to practice medicine in New York State and is Board certified by the American Board of Dermatology (2005).
This outstanding clinician and teacher has also been a volunteer physician with Global Brigades sponsored by Cornell University for the past four years and volunteered at Binghamton's Free Clinic from 2009-2012. Dr. Morales served on the Board of Directors of the UHS Medical Group in Johnson City, NY (2008-2012) and served on that Group's Compensation Committee for seven years. From 2003-2013, Dr. Morales was the director of the Department of Dermatology for the UHS Medical Group in Johnson City.
He has also conducted research in immunology and his work has been published in journals such as the Journal of Immunology and Gastroenterology.
Language
Position
CLINICAL INSTRUCTOR | Dermatology