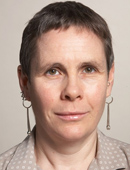 Ruth H Walker, MD, PhD
About Me
Education & Certifications
Research
Locations
About Me
Dr Ruth H. Walker received her medical degree from the University of Edinburgh in 1985 and her PhD on basal ganglia anatomy from the same institution in 1992. She completed her residency in neurology at NYU and her fellowship in movement disorders at Mount Sinai.

Since 1999 she has been on staff at the James J. Peters Veterans Affairs Medical Center in the Bronx, where she is Director of the Movement Disorders Clinic. She is board-certified in neurology.

Dr. Walker's clinical and research interests involve the neuroanatomy of the basal ganglia; the structures which are affected by neurological diseases such as Parkinson's disease, dystonia, tics and tremors. In addition to diagnosing and treating patients with these disorders, she specializes in those affected by involuntary movements known as chorea, seen in disorders such as Huntington's disease.

She has particular expertise in diagnosing and treating the very rare types of chorea known as neuroacanthocytosis, which includes chorea-acanthocytosis and McLeod's syndrome.

Dr. Walker is recognized as an international authority on these disorders, has authored many articles, and edited the first-ever book focused solely upon chorea, which was published by Oxford University Press in 2011.

Dr. Walker lectures nationally and internationally on these topics and regularly gives courses on chorea and other hyperkinetic movement disorders at the annual meetings of the American Academy of Neurology and the Movement Disorder Society.

Language
Position