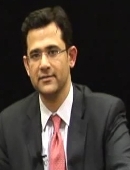 Sameer Bansilal, MD
About Me
Education & Certifications
Locations
Industry Relationships
About Me
Sameer Bansilal, MD, MS earned his medical degree from University of Mumbai, India, completed his residency training in Internal Medicine at New York Methodist Hospital, and clinical cardiology fellowship at Mount Sinai Hospital. He has completed post-doctoral research fellowships at the TIMI Study Group at Brigham and Women's Hospital in Boston, and at Mount Sinai. He holds a Masters in Clinical Research from the Mount Sinai-NYU Program and has completed the Program in Clinical Effectiveness at the Harvard School of Public Health.
He has served as a key member of multiple mega-trials such as FREEDOM, PEGASUS-TIMI 54 and DECLARE-TIMI 58. Currently he is the medical lead for the Grenada Heart Project, the American Heart Association Prevention Center at Mount Sinai and the Polypill Program in the U.S.
Dr. Bansilal's research interests include evaluation of innovative strategies and therapies for coronary disease and diabetes in global populations. His special interests include advanced trial design and trial methodology.
Dr. Bansilal is certified by the American Board of Internal Medicine in both Cardiovascular Disease and Internal Medicine, and he is also Board Certified in Nuclear Cardiology. He is a long-standing member of the American Heart Association, and the American College of Cardiology. He is an Associate Editor of the journal Global Heart, and Assistant Editor for the Journal of the American College of Cardiology.
Language
Position
ADJUNCT ASSISTANT PROFESSOR | Medicine, Cardiology