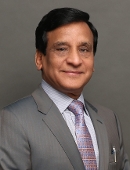 Video Visit Available
Accepting New Patients
Mount Sinai Doctors
Accepting New Patients
Samin K Sharma, MD
Interventional Cardiology, Cardiology (Heart), Cardiovascular Disease (Heart Disease)
Book an Appointment
About Me
Clinical Focus
Video
Education & Certifications
Awards
Locations
Insurance
Publications
Patient Experience Rating
Industry Relationships
About Me
Dr. Samin K. Sharma is well known for performing maximum number of complex coronary interventions in the country with highest success rates while achieving an extremely low complication rate. According to New York State Department of Health reports (since 1994), he has the highest angioplasty success rate and lowest mortality <0.2% for an interventional cardiologist in NY State, receiving numerous prestigious **star designation (significantly lower than expected mortality). Under Dr. Sharma's leadership, The Mount Sinai Hospital Cardiac Cath Lab has become one of the best and busiest centers in New York, providing state-of-the-art cardiac and interventional care for all types of simple and complex heart patients. In addition to coronary interventions, Dr. Sharma specializes in the non-surgical treatment of mitral and aortic stenosis and transcatheter aortic valve replacement (TAVR).
Dr. Sharma served on the Cardiac Advisory Board of New York State from 2004-2016, which advises the Health Department and the Governor on issues of health policies and supervision, safety, and appropriateness of heart care by various hospitals in New York. Dr. Sharma received the Governor's Award of Excellence (2006), for his outstanding contribution to Medicine.
Dr. Sharma also has passion for teaching and training fellows who enjoy learning from his expertise, so much so they awarded him the Simon Dack Best Teacher in the Division of Cardiology in 2000 and Cardiology Fellows Appreciation Award in 2009. Dr. Sharma travels to India every month to teach the art of angioplasty to Indian cardiologists.
Under the directorship of Dr. Sharma, the Live Symposium of Complex Coronary & Vascular Cases (www.cccsymposium.org) started in 1998 and has had overwhelming attendance every year (attended by >800 delegates). Major emphasis of the live course has been the technical aspects of safely performing complex coronary interventions. In July 2009, Dr. Sharma launched a monthly live web series, (www.ccclivecases.org), a revolutionary teaching tool in nterventional cardiology globally. This live program focuses on helping the audience understand the complexity of interventional disease management. Each webcast receives >5000 page views globally.
A regular fixture on international, national, and local TV stations, newspapers and magazines, Dr. Sharma has been the focus of news stories for media outlets like: The Today Show, CBS News, NBC News, Fox News, PIX11, The New York Times, The Wall Street Journal, New York Magazine, Reuters, Businessweek, Cardiology Today, India Abroad, India Today, Barron's, Forbes, Newsweek, The Washington Post, Crain'sNew York Business, NY Daily News, Newsday and New York Post.
Dr. Sharma has been the recipient of numerous awards for excellence from medical societies and the community, to name a few recent ones: 2014 Physician Scientist Award by AAPI-QLI, 2011 Ellis Island Medal of Honor, 2011 American Heart Association Achievement in Cardiovascular Science & Medicine Award, 2011 American Association of Physicians of Indian Origin (AAPI), 2010 Association of Indians in America (AIA) for Excellence in Medicine, 2010 Honored by AAPI forum of Tri-State Area for Academic Excellence, 2005-2008 and 2011-2021 Best Doctors, 2008-2021 Super Doctors, 2007 Jacobi Medallion Award at The Mount Sinai Hospital, 2007 Physician of the Year at The Mount Sinai Hospital.
Dr. Sharma received his medical degree from S.M.S. Medical College in 1978, Jaipur, India, where he was ranked the number one student in his medical school and State University receiving eight gold medals and five honors. In 1983, he came to New York to undergo residency in Internal Medicine at the NY Infirmary-Beekman Downtown Hospital (1983-1986), fellowship in Cardiology in Elmhurst Hospital (1986-1988), and interventional training at The Mount Sinai Hospital (1988-1990). He was then appointed as an attending at The Mount Sinai Hospital in 1990 where he is currently the Director of Interventional Cardiology (since 1996), Director of Clinical Cardiology (since 2011), Dean of International Clinical Affiliations (since 2011), President of Mount Sinai Heart Network (since 2011) and is the Anandi Lal Sharma Professor of Medicine, Cardiology. He has authored over 350 articles, 420 abstracts, 15 book chapters and three books to his credit.
Dr. Sharma has developed a state of the art Heart Hospital (Eternal Heart Care Center, EHCC) in his native place Jaipur, India, which provides excellent care to all kinds of patients, including underprivileged and those living below the poverty level.
Language
Position
SENIOR VICE-PRESIDENT, OPERATIONS & QUALITY, MOUNT SINAI HEART, DIRECTOR, INTERVENTIONAL CARDIOLOGY, MOUNT SINAI HEALTH SYSTEM, PRESIDENT, MOUNT SINAI HEART NETWORK, ANANDI LAL SHARMA PROFESSOR OF MEDICINE (CARDIOLOGY), PROFESSOR | Medicine, Cardiology
Hospital Affiliations
Mount Sinai Beth Israel
Mount Sinai Morningside
Mount Sinai Brooklyn
Mount Sinai Queens
The Mount Sinai Hospital
Mount Sinai West