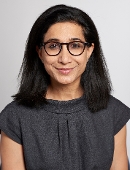 Sandhya K. Balaram, MD, PhD
About Me
Dr. Balaram is an Associate Professor in Cardiovascular Surgery and the Director of Clinical Quality and Performance for Cardiovascular Surgery for Mount Sinai Heart at MSSL. She has over two decades of experience in the dedicated care of cardiac surgical patients in New York City.
Dr. Balaram earned her BA/MD at the accelerated 6-year medical school at the University of Missouri-Kansas City, one of the only clinically integrated programs in the country. After graduating with honors, she pursued a General Surgery residency at Creighton University. While in training, she dedicated time to earning her Ph. D. doing atherosclerosis laboratory research at the molecular level. She went on to complete her Cardiothoracic Residency in 2003 at the University of Wisconsin at Madison. At a time when techniques for robotic and minimally invasive cardiac surgery were just beginning, she then arrived in New York for this specialized training.
During her years at St Luke's-Roosevelt Hospital (now Mount Sinai Morningside), she developed an interest in hypertrophic cardiomyopathy (HCM), a congenital disorder of the heart muscle. She assisted in the advancement of surgical techniques for HCM and consolidated the data collection and careful analysis of clinical research. This led to the creation the leading HCM program in the region, and one of the few nationally-recognized specialized HCM centers in the country.
Dr. Balaram has spent much of her career caring for a population of inner city and underserved patients who have had little previous exposure and access to medical care. The New York State cardiac surgery registry continually recognized the patients of her program as some of the highest risk in the state to undergo cardiac surgery. Her successful surgical care of these complex patients required expert knowledge and experience that is of benefit to all patients.
The MSM Women's Open Heart Initiative is a program developed by Dr. Balaram as result of the continuous data showing that women are at higher risk for cardiac surgery and may not always enjoy the same long-term benefits as men. Dr. Balaram collaborated with medical experts in gender studies and created a program that includes a variety of options for surgical approaches as well as a comprehensive education program after surgery based on lifestyle modification, adjunct alternative therapies, and community support.
In her free time, Dr. Balaram enjoys spending time with her family, reading, and playing the piano. She is currently working on creating a cardiac surgical division for Operation International, a 501c3 charity co-founded by her husband that provides free surgical care to patients around the world.
Dr. Balaram understands that having heart surgery can be an anxious time for patients, much beyond the technical aspects. Her goal is to deliver an individualized, patient-centered approach towards healing. She strives to use her surgical expertise and experience to provide the best operation at the correct time and to do so with compassion and personalized care. She is dedicated to helping each patient navigate their journey and return to their life and community with a spirit of health and well-being.
Language
Position
ASSOCIATE PROFESSOR | Cardiovascular Surgery