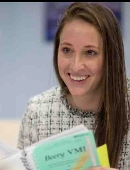 Mount Sinai Doctors
Sara Sweetbaum, PsyD
Psychology
No Patient Experience Ratings
Book an Appointment
About Me
Clinical Focus
Education & Certifications
Research
Locations
Insurance
Industry Relationships
About Me
Sara Sweetbaum, Psy.D., M.S.Ed., is an Assistant Professor at the Mount Sinai Center of Excellence in ADHD, Learning Disabilities, and Related Disorders. She is a licensed clinical psychologist with expertise in the areas of neuropsychology and the evidenced based treatment of a variety of disorders and clinical diagnoses in children, adolescents, and adults.

In her current role as a neuropsychologist, Dr. Sweetbaum has extensive experience evaluating both children and adults. Through comprehensive neuropsychological assessment, she assists patients and families in understanding their unique cognitive profile in order to determine the best supports to meet their needs at home, in school, or in the workplace.

In addition, Dr. Sweetbaum focuses on the clinical treatment of pediatric and adult obsessive-compulsive spectrum disorders, tic disorders/Tourette Syndrome, and anxiety disorders. She has received specialized training in Cognitive-Behavioral Therapy (CBT), Exposure and Response Prevention (ERP), Habit Reversal Training (HRT), and Parent Management Training (PMT).

Dr. Sweetbaum earned her Psy.D. in School-Clinical Child Psychology from the Ferkauf Graduate School of Psychology at Yeshiva University in 2017. She was a pre-doctoral intern at the APA-Accredited Astor Services for Children and Families in the Bronx, New York. Dr. Sweetbaum completed a two-year postdoctoral fellowship at Mount Sinai with a focus in clinical neuropsychology and the treatment of OCD, Tics, and Related Disorders.

Dr. Sweetbaum received her undergraduate degree in Brain, Behavior, and Cognitive Science from the University of Michigan. Prior to her doctoral training, Dr. Sweetbaum was a special educator in a New York City public school for three years. She also received a Master of Science in Special Education from Hunter College while she simultaneously served as a Teach for America Corps Member.
Language
Position
ASSISTANT PROFESSOR | Psychiatry
Hospital Affiliations
Research Topics
Behavioral Health, Brain, Cognitive Neuroscience, Education, Human Genetics and Genetic Disorders, Language, Memory, OCD, Pediatrics, Pharmacology, Prefrontal Cortex, Psychiatry, Stress