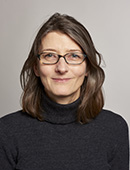 Sarah A Stanley, MBBCh, PhD
About Me
Education & Certifications
Awards
Research
Locations
Publications
About Me
Sarah Stanley, MBBCh, PhD, is an Assistant Professor in the Department of Medicine, Division of Endocrinology, Diabetes and Bone Disease.

Dr. Stanley studied, trained and practiced as a physician at Cambridge University and London teaching hospitals, including The Royal London and The Hammersmith Hospital. Her work combined clinics for diabetes and rare endocrinology issues such as neuroendocrine tumors and pituitary disease with busy Internal Medicine intakes. Although she loved providing patient care, Dr. Stanley started to realize that most therapies were inadequate. In search of a bigger impact, she joined Professor Steve Bloom's Lab as a Wellcome fellow and completely her PhD (97-2000) "The role of orexigenic and anorexigenic peptides in the control of hypothalamo-pituitary axes". As a Medical Research Council fellow, she joined Professor Jeffrey Friedman's lab at Rockefeller University in 2005, working on murine models for CNS glucose sensing and later on the development of radio and magnetogenetics.
In 2014, Dr. Stanley joined Mount Sinai to start a new lab with joint appointments in Endocrinology and Neuroscience. She believes the most important breakthroughs in medical research come at the intersection of existing fields and Mount Sinai was perfectly set up to enable these collaborations. The Stanley Laboratory's philosophy is simple: medical research requires both individual acumen and team work, and so she is on the lookout for research assistants and post doctoral scientists who combine personal drive with a real desire to learn in a collaborative setting.
Language
Position
ASSOCIATE PROFESSOR | Medicine, Endocrinology, Diabetes and Bone Disease, ASSOCIATE PROFESSOR | Neuroscience
Research Topics
Brain, Diabetes, Molecular Biology, Obesity
Multi-Disciplinary Training Areas
Neuroscience [NEU]