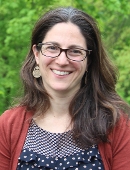 Sarah F Evans, PhD
About Me
Locations
Publications
About Me
Sarah F. Evans, PhD, MPH, is Assistant Professor in the Department of Environmental Medicine and Public Health and a member of the Institute for Exposomic Research at the Icahn School of Medicine at Mount Sinai. Dr. Evans' research is focused on the impacts of early life environmental exposures on nervous system development and child behavior. She is a trusted voice on the health effects of toxic chemicals and what individuals can do to protect their own health as well as how to advocate for healthier policies in their local communities.
Dr. Evans leads a multi-disciplinary team working to improve the process of reporting back individual environmental exposure results to participants in research studies. Dr. Evans and her team aim to empower individuals to make more informed, health-centered choices and activate community-level change to reduce environmental exposures more widely.
Dr. Evans is dedicated to translating the complex science emerging from the Institute for Exposomics Research into educational programming that provides families with actionable steps for the creation of safer environments. She is an active faculty member in the Mount Sinai Children's Environmental Health Center (CEHC), Region 2 Pediatric Environmental Health Specialty Unit (R2PEHSU), and the New York State Children's Environmental Health Centers (NYSCHECK).
She obtained her doctorate in neuroscience from Weill Cornell Medical College and her Master's in Public Health from Mount Sinai, where she also completed a three-year fellowship in environmental pediatrics.
Language
Position
ASSISTANT PROFESSOR | Environmental Medicine & Public Health