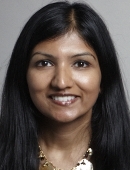 Shyamala Navada, MD, MSCR
About Me
Clinical Focus
Publications
Industry Relationships
About Me
Shyamala Navada, MD, is Associate Professor of Medicine (Hematology and Medical Oncology) at the Icahn School of Medicine at Mount Sinai (Icahn) and a faculty member of The Tisch Cancer Institute. Her focus is on clinical and translational research in myelodysplastic syndromes (MDS) and acute myeloid leukemia (AML). She has worked on designing early phase clinical trials investigating the role of novel candidate drugs to improve the outcomes of patients with MDS and AML, and has served as principal investigator on multiple investigator-initiated and industry-sponsored trials. Dr. Navada has a Master of Science degree in Clinical Research from Icahn.
Dr. Navada has presented her research at national and international conferences, including the American Society of Hematology annual meeting, International Bone Marrow Failure Disease Scientific Symposium, International Symposium on Myelodysplastic Syndromes, and European Hematology Association Congress.
Dr. Navada is involved in education of community physicians and patients on the treatment of MDS through the Aplastic Anemia and MDS Foundation.
Language
Position
ADJUNCT ASSOCIATE PROFESSOR | Medicine, Hematology and Medical Oncology
Research Topics
Cancer, Leukemia