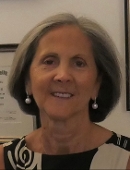 Silvana Riggio, MD
About Me
Research
Locations
Publications
About Me
Clinical Focus:
Concussion Management / Sport Psychiatry
Stress Management / Anxiety Disorders
Dr. Riggio is a Professor of Psychiatry, Neurology, Rehabilitation Medicine and Human Performance at the Icahn School of Medicine at Mount Sinai. Dr. Riggio's areas of expertise are Stress Management, Anxiety Disorders, Sports Psychiatry, and Concussion Management. Dr. Riggio is strongly committed to initiatives focused on personal wellness, human performance, and issues related to work-life balance; she also provides executive life coaching services. Dr. Riggio has expertise in understanding the interface between behavioral, neurologic, and physical health. She has a strong interest in multidisciplinary healthcare delivery and innovative ways to deliver care. She is trilingual in English, Italian and French and maintains an internationally recognized clinical practice. Dr. Riggio serves as the Primary Medical Advisor (PMA) for the NFL on Neurological issues and a Consultant on Psychiatric issues. She is a member of the Sports Neurology Section of the American Academy of Neurology and of the International Sport Psychiatry Section of the American Psychiatric Association. Dr. Riggio lectures nationally and internationally and has participated on National Committees related to traumatic brain injury (TBI). Dr. Riggio participated on the ACEP-CDC guidelines task force on mild TBI which was published in December 2008, and on a CDC project on discharge instructions for patients with mild TBI from 2008-2010. She was a task force member of the CDC/DoD Concussion definition consortium from 2011-2018. She served as a Neuro Trauma Consultant for the NFL from 2014-2017. Dr. Riggio has authored over 60 articles and book chapters, has edited 7 books and journal supplements, and co-authored one book. She has been the primary investigator or co-investigator on 22 grants. Dr. Riggio has won teaching awards form the Department of Psychiatry and from the Institute for Medical Education (IME). She is one of only few Mount Sinai physicians to have achieved both "Master Clinician" and "Master Educator' status. Dr. Riggio's other interests include women's health issues. She has served on the advisory board for SAVI (Sexual Assault Violence Intervention). She has also served as a mentor for women medical students, psychiatry and neurology residents. In 2010 she received an award from the Italian government for service in the community (Commendatore OSSI. Ordine della Solidarieta'Italiana).

Language
Position
CLINICAL PROFESSOR | Psychiatry, CLINICAL PROFESSOR | Neurology, CLINICAL PROFESSOR | Rehabilitation and Human Performance