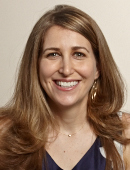 Mount Sinai Doctors
Staci A. Leisman, MD
Nephrology, Internal Medicine
No Patient Experience Ratings
About Me
Clinical Focus
Education & Certifications
Insurance
Publications
Industry Relationships
About Me
Dr. Staci Leisman is a board certified internist and nephrologist who practices nephrology at Mount Sinai Hospital. She is also an accomplished educator in the Icahn School of Medicine at Mount Sinai.

Dr. Leisman received her B.A. in English Language and Literature from Yale University, where she graduated magna cum laude and was inducted into Phi Beta Kappa. She received her M.D. from Washington University in St Louis, where she was one of 8 recipients of the Distinguished Scholar Award. She completed her residency in Internal Medicine and fellowship in Nephrology at Mount Sinai Medical Center. As a fellow, she completed research in transplant immunology in the laboratory of Dr. Peter Heeger, which resulted in a Young Investigator Award from the American Society of Transplantation and two oral presentations at the American Transplant Congress. During her fellowship, she co-first authored and was a contributing author on numerous papers.

Dr. Leisman's clinical duties include caring for patients on dialysis at an outpatient dialysis facility, as well as attending on the inpatient renal service at Mount Sinai Hospital.

Dr. Leisman has been extensively involved in teaching throughout her career. She currently teaches students at all levels of medical education, including medical students, residents and fellows. She is the course director for the Human Physiology course in the medical school, and holds a secondary appointment in the Department of Medical Education, where she is a co-director for the medical school curriculum. In her capacity as an educator, she has won numerous awards including Teacher of the Year at North General Hospital, the Edward Ronan Student Council Award at the Icahn School of Medicine, the Institute for Medical Education's Excellence in Teaching Award, the Student Council Lifetime Achievement Award, the JOWMA Outstanding Achievement Award, and the Gold Humanism in Medicine Award. She has been selected for membership in the Institute for Medical Education as a Master Educator.

Dr. Leisman also serves on the International Association of Medical Science Educators' educational scholarship committee, and serves on the editorial board of Advances in Chronic Kidney Disease, the Journal of the National Kidney Foundation. She is the Deputy Education Director for the Kidney Self Assessment Program (KSAP), the preeminent board preparation tool published by the American Society of Nephrology.
Language
Position
ASSOCIATE PROFESSOR | Medicine, Nephrology, ASSOCIATE PROFESSOR | Medical Education
Hospital Affiliations
Mount Sinai Queens
The Mount Sinai Hospital