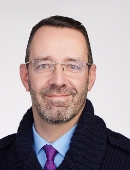 Mount Sinai Doctors
Accepting New Patients
Stephen Gilheeney, MD
Pediatrics, Pediatric Hematology-Oncology
No Patient Experience Ratings
Book an Appointment
About Me
Clinical Focus
Education & Certifications
Locations
Insurance
Industry Relationships
About Me
Stephen W. Gilheeney, MD, MMS, is the Medical Director of the Jack Martin Fund Division of Pediatric Hematology-Oncology at Mount Sinai Kravis Children's Hospital and is an Associate Professor of Pediatric Hematology-Oncology at the Jack and Lucy Clark Department of Pediatrics at the Icahn School of Medicine at Mount Sinai and Mount Sinai Kravis Children's Hospital. He is a board-certified pediatrician and pediatric hematologist/oncologist with a focus in pediatric neuro-oncology treating children with tumors of the brain and spinal cord.
Dr. Gilheeney received his medical degree from the Warren Alpert Medical School at Brown University. He completed his residency in pediatrics at New York Presbyterian Hospital/ Cornell University Medical Center and then his fellowship in Pediatric Hematology/Oncology at NY Presbyterian Hospital/Memorial Sloan Kettering Cancer Center. He also completed his clinical fellowship in Pediatric Neuro-Oncology at Dana-Farber Cancer Institute/Boston Children's Hospital/Harvard Medical School. Dr. Gilheeney comes to Mount Sinai Kravis Children's Hospital with 15 years of experience as a pediatric neuro-oncologist and involvement in clinical trials for this population.
Clinical Focus:
Dr. Gilheeney's initial clinical interests focused on drug development however over the course of his career they expanded to include interests in using targeted therapies and radiation sparing strategies in the infant/toddler population with the goal of minimizing toxicitiesof treatment while maintaining survival rates. This has included bringing lower intensity treatment protocols to the infant embryonal tumor population and working with national working groups to create clinical trials. Though most of his professional career has centered in the New York City area, Dr. Gilheeney has provided consultations to patients and physicians throughout the United States, Europe and Australia. In all of these clinical areas, he has strived to maintain the highest levels of patient care and safety.
Research Focus:
Dr. Gilheeney's research focuses on the use of targeted therapies for the treatment of tumors of the central nervous system as well as in the use of radiation sparing treatment strategies for infants and young children diagnosed with brain and spinal tumors. With Dr. Gilheeney's expertise, he will join the team at the Mount Sinai Children's Brain and Spinal Tumor Center in advancing the mission of our center.
In 15 years as a pediatric neuro-oncologist, Dr. Gilheeney has worked with consortium and pharmaceutical partners on clinical protocols for children with tumors of the brain and spinal cord. These have included early phase trials of biologically targeted agents to large later phase trials to assess standard of care practices for various diagnoses. Initially, he was focused on early phase drug development, however that has expanded into a distinct clinical interest in the infant population and the use of radiation-sparing strategies including targeted therapies. As a member of the Children's Oncology Group, he currently sits on the Infant Embryonal Tumor Working Group – looking at how best to adapt treatments based on known molecular subgroups and their known natural histories and prognoses. Going forward he will be combining all of these experiences and working with laboratory-focused partners to build a clinical program to treat pediatric brain and spinal cord tumors. We will expand current extramural partnerships with the goal of designing and opening novel clinical trials based on cutting edge science for infants, children and adolescents/young adults.
Language
Position
ASSOCIATE PROFESSOR | Pediatrics, Hematology/Oncology
Hospital Affiliations
Mount Sinai Morningside
Mount Sinai Beth Israel
Mount Sinai Queens
The Mount Sinai Hospital
Mount Sinai West