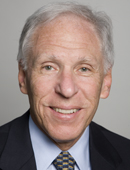 Stuart A Aaronson, MD
About Me
Education & Certifications
Awards
Research
Locations
Publications
About Me
Stuart Aaronson, MD, is the Jack and Jane B. Aron Professor of Neoplastic Diseases; Founding Chair, Emeritus, Department of Oncological Sciences; and Associate Director of Basic and Translational Research at The Tisch Cancer Institute. Dr. Aaronson joined Mount Sinai in 1994 following a long tenure at the National Cancer Institute, during which he was Chief of the Laboratory of Cellular and Molecular Biology.
Dr. Aaronson participated in the discovery of the first normal function of an oncogene and the demonstration that genes encoding growth factors could be transforming (sis/PDGF). He subsequently discovered erbB2 as an erbB-related gene amplified in a primary human breast cancer, and genes for other growth factor signaling molecules activated as oncogenes in human malignancies. Dr. Aaronson's research has contributed to the development of novel cancer drugs including Herceptin which targets ERBB2, and KGF/FGF7, discovered by him as a unique epithelial cell acting growth factor and which became a drug for treatment of mucositis, a debilitating side effect of certain cancer therapies. His discoveries, including erbB3, PDGFR alpha, and HGF as the ligand for MET, have led to other approved drugs as well as those currently in clinical development as cancer therapeutics. More recently, Dr. Aaronson identified a Wnt autocrine activation mechanism, which helps to drive the malignant phenotype of some human breast, ovary, lung, and soft tissue tumors.
Dr. Aaronson is the recipient of numerous awards including the Distinguished Service Medal from the U.S. Public Health Service, the AACR Award for Outstanding Achievement in Cancer Research, and the Paul Erhlich Prize from Germany. He is the author of more than 485 publications, an inventor on more than 40 patents, and serves on numerous editorial boards and scientific advisory committees. He has trained dozens of investigators, who have gone on to positions in academic medicine or biotech/pharma, or who head cancer centers in this country and abroad.
Language
Position
FOUNDING CHAIR EMERITUS AND PROFESSOR | Oncological Sciences, PROFESSOR | Medicine
Research Topics
Aging, Cancer, Growth Factors and Receptors, Oncogenes, Signal Transduction
Multi-Disciplinary Training Areas
Cancer Biology [CAB], Disease Mechanisms and Therapeutics (DMT)