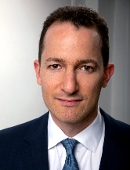 Tal Raviv, MD
Ophthalmology (Eye)
No Patient Experience Ratings
About Me
Clinical Focus
Video
Education & Certifications
Awards
Insurance
Publications
Industry Relationships
About Me
Tal Raviv, MD, FACS is an experienced and recognized ophthalmologist, cataract and refractive surgeon, national thought leader, and teacher. As founder and medical director of Eye Center of New York, Dr. Raviv offers state-of-the-art technologies in laser refractive cataract surgery, advanced lens implants, and bladeless LASIK. Dr. Raviv was one of the first doctors in New York to use the Femtosecond laser for the highest precision in cataract surgery. He frequently contributes to local news broadcasts about the latest medical innovations.
Dr. Raviv is a highly regarded cataract and refractive surgeon. He serves on the editorial boards of two industry trade magazines, has served on the programming committees of regional and national meetings, lectures internationally on emerging cataract and refractive surgery technologies, consults for the latest ophthalmology technology companies, and is clinical associate professor of Ophthalmology at New York Eye and Ear Infirmary of Mount Sinai where he teaches residents
Dr. Raviv specializes in diagnois and treatment of dry eye disease and blepharitis.  His private practice offers the absolute latest in dry eye diagnostics and treatments including: Meibography, Lipiview lipid layer thickness, MMP-9 Inflammadry diagnostics, Schirmer testing, Lipiflow MGD treatment, Blephex micro-blepharo exfoliation, punctal plugs, amniotic membrane graftes and more.
Dr. Raviv has been honored as SUPERDOCTOR (2009-20016), named into the OSN Premier 300 representing the top ophthalmic surgeons in the country (2016) and been accepted into Leading Medical Clinics of the World (2016).
Please check his practice profile at www.EyeCenterofNY.com
and recent publications:  www.TalRavivMD.com
Language
Position
ASSOCIATE CLINICAL PROFESSOR | Ophthalmology
Hospital Affiliations
Mount Sinai Morningside
New York Eye and Ear Infirmary of Mount Sinai
Mount Sinai West