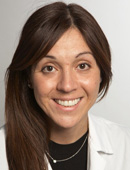 Mount Sinai Doctors
Teresa M Deangelis, MD
Neurology
No Patient Experience Ratings
About Me
Clinical Focus
Education & Certifications
Insurance
Industry Relationships
About Me
Tracy DeAngelis, MD is an Adjuct Professor in the Department of Neurology at Mount Sinai Medical Center. She is also the recipient of the National Multiple Sclerosis Society Clinical Fellowship Award for 2006-07.
Dr. DeAngelis graduated cum laude from Dartmouth College in 1995 and received her medical degree from SUNY Upstate Medical University (Syracuse) in 2001. She completed her residency training in neurology at Mount Sinai Medical Center in 2005 and began her two-year fellowship in multiple sclerosis at the CGD Center for MS later that year. During her residency, Dr. DeAngelis participated in basic immunology research, and as a fellow, was involved in several ongoing
clinical research trials
studying various patterns of MS, including clinically isolated syndromes, relapsing-remitting and progressive forms of the disease. In addition, she studied new oral and parenteral disease-modifying and symptomatic therapies for MS. She has a particular interest in the pathophysiology and treatment of Neuromyelitis Optica, also known as Devic's disease, and NMO-spectrum disorders.
Language
Hospital Affiliations