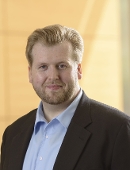 Thomas J Fuchs, DrSc
About Me
Thomas J. Fuchs, Dr.sc., is a scientist in the groundbreaking field of Computational Pathology, focused on the use of artificial intelligence to analyze images of tissue samples to identify disease, recommend treatment and predict outcome. In October 2020, he has been appointed Co-Director of the Hasso Plattner Institute for Digital Health at Mount Sinai, Dean of Artificial Intelligence (AI) and Human Health, and Professor of Computational Pathology and Computer Science at the Icahn School of Medicine at Mount Sinai. In this role, he will lead the next generation of scientists and clinicians to use artificial intelligence and machine learning to develop novel diagnostics and treatments for acute and chronic disease.
Dr. Fuchs's work includes developing novel methods for analysis of digital microscopy slides to better understand genetic mutations and their influence on changes in tissues. He has been recognized for developing large-scale systems for mapping the pathology, origins, and progress of cancer. This breakthrough was achieved by building a high-performance compute cluster to train deep neural networks at petabyte scale.
Before joining Mount Sinai, Dr. Fuchs was Director of the Warren Alpert Center for Digital and Computational Pathology at Memorial Sloan Kettering Cancer Center (MSK) and Associate Professor at Weill Cornell Graduate School for Medical Sciences. At MSK he led a laboratory focused on computational pathology and medical machine learning. Dr. Fuchs co-founded Paige.AI in 2017 and led its initial growth to the leading AI company in pathology. He is a former research technologist at NASA's Jet Propulsion Laboratory and visiting scientist at the California Institute of Technology. Dr. Fuchs holds a Doctor of Sciences from ETH Zurich in Machine Learning and a MS in Technical Mathematics from Graz Technical University in Austria.
Language
Position
DEAN FOR ARTIFICIAL INTELLIGENCE AND HUMAN HEALTH, CO-DIRECTOR, HASSO PLATTNER INSTITUTE FOR DIGITAL HEALTH, PROFESSOR | Pathology, Molecular and Cell Based Medicine
Multi-Disciplinary Training Areas
Artificial Intelligence and Emerging Technologies in Medicine [AIET]