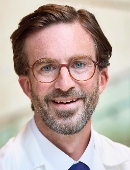 Video Visit Available
Accepting New Patients
Mount Sinai Doctors
Accepting New Patients
Thomas Marron, MD, PhD
Cancer (Oncology), Internal Medicine
No Patient Experience Ratings
Book an Appointment
About Me
Clinical Focus
Video
Education & Certifications
Locations
Insurance
Publications
Industry Relationships
About Me
Thomas Marron, MD, PhD, is the Director of the Early Phase Trials Unit (EPTU) at The Tisch Cancer Institute and Associate Professor of Medicine (Hematology and Medical Oncology) at the Icahn School of Medicine at Mount Sinai. He is a Medical Oncologist, and holds a PhD in Immunology; his research focuses on development of cancer immunotherapies.
EPTU focuses on Phase 1 and Phase 2 multi-histology clinical trials developing novel agents and combinations of new and old agents that are being tried across solid tumor types. Dr. Marron's focus is on the immunotherapy space, with particular focus on novel immunomodulatory agents and cancer vaccine strategies.
As a member of the Center for Thoracic Oncology, Dr. Marron treats thoracic malignancies, including non-small cell lung cancer, small cell lung cancer, and malignant pleural mesothelioma. He leads numerous industry-sponsored as well as investigator-initiated clinical trials for thoracic malignancies as well hepatocellular carcinoma (liver cancer).
As a member of The Tisch Cancer Institute and the Precision Immunology Institute, Dr. Marron works closely with basic scientists across the Mount Sinai Health System, translating preclinical findings into clinical advances. He also leads The neoAdjuvant Research Group to Evaluate Therapeutics (TARGET) which is housed in EPTU and is a large cross-disciplinary collaborative translational research program focused on clinical trials for multiple types of cancer in which patients receive novel therapies prior to surgery. These neoadjuvant trials are often called "window-of-opportunity" trials given the brief nature of the pre-surgical intervention, and opportunity to learn a great deal about novel agent's mechanisms of action in humans. The goal of these trials is to decrease the likelihood that cancer will return after surgery; in parallel, they support deep interrogation of the effect of new and standard therapies on the tumor immune microenvironment at the single-cell level. Further, the trials enable Dr. Marron and collaborators to define combination approaches that optimize response rates and the durability of novel immune-based therapies, while minimizing toxicity to patients.
Language
Position
ASSOCIATE PROFESSOR | Medicine, Hematology and Medical Oncology
Hospital Affiliations
Mount Sinai Morningside
Mount Sinai Beth Israel
Mount Sinai Brooklyn
Mount Sinai Queens
The Mount Sinai Hospital
Mount Sinai West