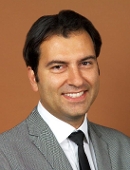 Video Visit Available
Accepting New Patients
Mount Sinai Doctors
Accepting New Patients
Tsontcho A Ianchulev, MD
Glaucoma, Ophthalmology (Eye)
Book an Appointment
About Me
Clinical Focus
Video
Education & Certifications
Locations
Insurance
Publications
Patient Experience Rating
Industry Relationships
About Me
Dr. Ianchulev is a Professor of Ophthalmology at the Icahn School of Medicine at Mount Sinai and Director of Ophthalmic Innovation and Technology at the New York Eye and Ear Infirmary of Mount Sinai. As an inventor, researcher and developer, he is one of the top innovators in the field – his breakthrough research and inventions have resulted in major advances in ophthalmology, which have transformed the treatment paradigms in retina, glaucoma and have led to new FDA approved therapies benefiting hundreds of thousands of patients every year.
Dr. Ianchulev was the principal scientist who designed and lead the clinical research of Lucentis - the first antibody therapy in ophthalmology for the treatment of wet AMD, diabetic macular edema, and retinal vein occlusions. He is also the founder of intraoperative aberrometry – the advanced biometry surgical guidance system for high precision cataract surgery. He was also developed and introduced in the US the CyPass micro-stent – the first MIGS supraciliary implant to receive FDA approval. Dr. Ianchulev is also the founder of a new technology for micro-interventional cataract surgery (miLOOP, Iantech, Inc), as well as the specialty biopharma Eyenovia, Inc, which is developing new therapeutic approaches for front-of-the-eye disease. His milestone publications have been cited by more than 2,000 peer-review papers. Dr. Ianchulev is an invited speaker at many international meetings and panels and has been an invited expert by the US Congress on matters on policies related to healthcare, technology and innovation.
As a clinician, Dr. Ianchulev provides specialized clinical and surgical care for patients with glaucoma and cataract as well as consultations for complex and refractory cases. Patients trust Dr. Ianchulev's expertise because he consistently provides high quality care that leads to positive and lasting health outcomes. He is sensitive to the uniqueness of each patient's situation and adapts his consultations and treatment options appropriately to accommodate individual needs and concerns.
Language
English, Russian, Bulgarian, Spanish, German
Position
PROFESSOR | Ophthalmology
Hospital Affiliations
The Mount Sinai Hospital
New York Eye and Ear Infirmary of Mount Sinai