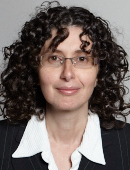 Vilma Gabbay, MD
About Me
Clinical Focus
Locations
Publications
About Me
Dr. Gabbay serves as Chief of the Pediatric Mood and Anxiety Disorders Program and Associate Professor of Psychiatry and Neuroscience.
One of the nation's leading experts on pediatric mood disorders, Dr. Gabbay is also a renowned researcher with a focus on the neurological and immunological mechanisms that contribute to the development and maintenance of mood disorders in youth. At the Mount Sinai School of Medicine, she will develop and direct a research program investigating the neurobiology of mood and anxiety disorders in children and adolescents with emphasis on the dimensional investigation of specific symptoms such as anhedonia - the capacity to experience pleasure. The goal of the program is to utilize a multidisciplinary approach to enhance understanding of the disorders, which will lead to early identification, diagnostic refinements, and novel treatments. Her research efforts utilize an array of sophisticated, cutting-edge techniques, including functional magnetic resonance (MR) imaging, MR spectroscopy, immunological and genetic assays, and comprehensive clinical evaluations. She also investigates the efficacy and neurochemical effects of Omega-3 fatty acids (fish oils) in the treatment of adolescent depression and Tourette's disorder. Dr. Gabbay's research has been funded by the National Institutes of Health, the American Foundation for Suicide Prevention, the Tourette Syndrome Association, the Hope for Depression Research Foundation, and the National Association for Research on Schizophrenia and Depression.
Dr. Gabbay has received numerous awards and honors and has been published extensively in top-tier scientific journals.
Dr. Gabbay received her BMedSc in human sciences and her MD from Tel Aviv University in Israel. She completed a residency in general psychiatry at the Albert Einstein College of Medicine and a residency in child and adolescent psychiatry at the NYU School of Medicine, where she received the Resident Research Excellence Award and,in 2008, earned her MS in Translational Medicine Research.

Financial & Billing Information

Please direct any detailed billing or financial inquires to the Mount Sinai Psychiatry billing customer service number at 212-659-8752.
Language
Position
ASSOCIATE CLINICAL PROFESSOR | Psychiatry
Multi-Disciplinary Training Areas
Neuroscience [NEU]