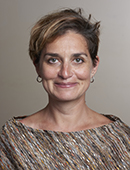 Video Visit Available
Accepting New Patients
Mount Sinai Doctors
Accepting New Patients
Yelena Z Ginzburg, MD
Internal Medicine, Hematology-Oncology
No Patient Experience Ratings
Book an Appointment
About Me
Clinical Focus
Education & Certifications
Research
Locations
Insurance
Publications
Industry Relationships
About Me
Yelena Ginzburg, MD, is Associate Professor (Hematology and Medical Oncology) at the Icahn School of Medicine at Mount Sinai. She sees patients with a wide range of benign hematologic diseases and malignant diseases such as myeloproliferative neoplasms (MPNs) at the Ruttenberg Treatment Center at The Mount Sinai Hospital, with a focus on individualized, patient-centered care.
Dr. Ginzburg conducts research on erythropoiesis and iron metabolism; she aims to understand how exploiting these pathways can be translated into developing therapeutics and improving care in multiple diseases.
Dr. Ginzburg mentors graduate students from the Graduate School of Biomedical Sciences, postdoctoral fellows, and clinical residents and fellows at the Icahn School of Medicine at Mount Sinai and other institutions, with a productive record of clinical and basic research publications.
Prior to joining Mount Sinai in 2016, Dr. Ginzburg served as Medical Director for Medical Programs/Services and the Cell Therapy Laboratory and Donor Center Medical Director at the New York Blood Center in addition to developing her own laboratory research program in the Erythropoiesis Laboratory. She recently served on the Board of Directors of the International BioIron Society and is the current chair of the East-West-Iron-Club. Dr. Ginzburg sits on the American Society of Hematology Committee on Iron and Heme, and reviews grants and publications for government and private entities.
Language
Position
PROFESSOR | Medicine, Hematology and Medical Oncology
Hospital Affiliations
Mount Sinai Queens
The Mount Sinai Hospital
Research Topics
Apoptosis/Cell Death, Cellular Differentiation, Hematopoiesis, Iron Metabolism, Molecular Biology, Transgenic Mice
Multi-Disciplinary Training Areas
Cancer Biology [CAB], Development Regeneration and Stem Cells [DRS]
Download the CV