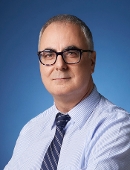 Yiannis Ioannou, PhD
About Me
Video
Education & Certifications
Research
Locations
Publications
About Me
Dr Ioannou is a Professor of Genetics and Genomic Sciences. He is an internationally recognized molecular geneticist and cell biologist and an expert on the biology, function and diseases of the endosomal/lysosomal system and in particular disorders that affect the central nervous system. He has more than 25 years of experience in drug development for rare diseases and he is the co-developer of the FDA-approved enzyme replacement therapy for Fabry's disease.
Dr Ioannou is also a co-founder of Dual Therapeutics a highly innovative R&D company focused on the development of small molecule activators of tumor suppressor proteins with anti-tumor activity.
Dr Ioannou has also recently founded Amathus Therapeutics and is currently serving as President of the Scientific Advisory Board. Amathus Therapeutics is pursuing the clinical development of novel compounds that show efficacy in treating multiple lysosomal neurodegenerative diseases including Niemann-Pick C and Parkinson's diseases.

Professor, Department of Genetics and Genomic Sciences
Training Area(s): GGS*, MDT, MCBD
Lab Location: East Building Rm 14-52 Lab, 14-70A Office
Phone: (212) 659-6720
Email: yiannis.ioannou@mssm.edu

Language
Position
PROFESSOR | Genetics and Genomic Sciences
Research Topics
Alzheimer's Disease, Apoptosis/Cell Death, Atherosclerosis, Brain, Cardiovascular, Caveoloe, Diabetes, Drug Design and Discovery, Gene Regulation, Genetics, Human Genetics and Genetic Disorders, Intracellular Transport, Lipid Signaling, Lysosomal Storage Diseases, Lysosomes/endosome, Mass Spectrometry, Membrane Proteins/Channels, Membranes, Mental Retardation, Neuro-degeneration/protection, Obesity, Protein Complexes, Protein Degradation, Protein Kinases, Protein Phosphatases, Protein Structure/Function, Protein Trafficking & Sorting, Proteomics, RNA, Transporters
Multi-Disciplinary Training Areas
Genetics and Genomic Sciences [GGS]