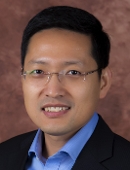 Yizhou Dong, PhD
About Me
Yizhou Dong, PhD, is a Professor with the Icahn Genomics Institute, the Marc and Jennifer Lipzhultz Precision Immunology Institute (PrIISM), and the Department of Oncological Sciences at the Icahn School of Medicine at Mount Sinai.
Dr. Dong's research focuses on the design and development of nanoparticle delivery systems and RNA therapeutics for the treatment of cancer, genetic disorders, and infectious diseases. His lab will integrate their specialty in pharmaceutics, pharmaceutical chemistry, biomedical engineering, materials formulation, and animal studies to design novel therapeutic medicines and uncover their mechanisms of actions. Recognized as a leader in the lipid nanoparticle (LNP) field, Dr. Dong has authored over 70 papers and has over 50 patents. Several of his inventions have been licensed and are currently under development as drug candidates for clinical trials.

Dr. Dong is the recipient of Young Innovator in Cellular and Molecular Bioengineering from the Biomedical Engineering Society, Maximizing Investigators' Research Award from the National Institute of General Medical Sciences (NIGMS), Ohio State Early Career Innovator of the Year, and The American Association of Pharmaceutical Scientists (AAPS) Emerging Leader Award. He was also recently elected fellow of The American Institute for Medical and Biological Engineering (AIMBE). Dr. Dong received his B.S. in Pharmaceutical Sciences from Peking University, Health Science Center and his M.S. in Organic Chemistry from Shanghai Institute of Organic Chemistry. In 2009, he received his Ph.D. degree in Pharmaceutical Sciences from the University of North Carolina at Chapel Hill (UNC-CH) and then did a postdoctoral fellowship in the lab of Robert Langer and Daniel Anderson at MIT. He was appointed as an Assistant Professor at OSU in 2014 and promoted to Associate Professor in 2018. He joined Mount Sinai as a tenured professor in 2022.
Visit the Dong Lab Website Here.
Language
Position
PROFESSOR | Oncological Sciences