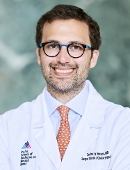 Mount Sinai Doctors
Accepting New Patients
Zachary Schwam, MD
Ear, Nose, Throat (ENT) / Otolaryngology
Book an Appointment
About Me
Clinical Focus
Education & Certifications
Locations
Insurance
Patient Experience Rating
Industry Relationships
About Me
Dr. Zachary Schwam is an Assistant Professor in the Department of Otolaryngology-Head and Neck Surgery in the Mount Sinai Health System and a Neurotologist at Mount Sinai West and the Ear Institute of Mount Sinai. He received his medical degree from the Yale School of Medicine and completed his residency in Otolaryngology-Head and Neck Surgery (ENT) at the Mount Sinai Hospital and New York Eye and Ear Infirmary of Mount Sinai. Dr. Schwam then stayed on as the department's first fellow to receive two-year subspecialty training in neurotology and lateral skull base surgery, working closely with the Department of Neurosurgery to achieve excellent patient outcomes.
Dr. Schwam's expertise includes the surgical management of hearing loss and vertigo, with a special focus on acoustic neuroma (also known as vestibular schwannoma), glomus tumors (head and neck paragangliomas), cerebrospinal fluid (brain fluid) leaks, and facial nerve disorders. He has received funding from the Acoustic Neuroma Association to investigate the use of 7T MRI in planning safer surgery and was part of an international group of experts writing management guidelines for head and neck paragangliomas, or glomus tumors. In addition, Dr. Schwam has extensive experience in removing cancers of the ear and performing minimally invasive endoscopic surgery for tympanoplasty (ear drum repair), ossicular chain reconstruction (rebuilding the bones of hearing), stapedectomy for otosclerosis, and removal of cholesteatomas. Dr. Schwam works extensively with the department audiology team to restore hearing via cochlear implant and bone anchored implant surgery.
As an author of numerous textbook chapters and research articles, Dr. Schwam has been invited to lecture at various local, national, and international courses and conferences. He has received several awards for teaching as voted on by the medical students, residents, and department faculty. He is also an associate editor for the journal Otolaryngology Case Reports and the founder of the Mount Sinai Otolaryngology Surgical Video Series.
View Dr. Schwam's research here.
Watch Dr. Schwam's surgical video series here and on YouTube here.
Language
Position
ASSISTANT PROFESSOR | Otolaryngology
Hospital Affiliations
Mount Sinai Beth Israel
Mount Sinai Morningside
Mount Sinai Brooklyn
The Mount Sinai Hospital
New York Eye and Ear Infirmary of Mount Sinai
Mount Sinai West