Profiles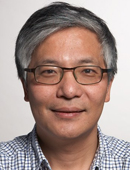 Zhen-Qiang Pan, PhD
About Me
Education & Certifications
Research
Locations
About Me
Language
Position
PROFESSOR | Oncological Sciences
Research Topics
Cancer, Enzymology, Protein Degradation, Signal Transduction
Multi-Disciplinary Training Areas
Cancer Biology [CAB], Development Regeneration and Stem Cells [DRS]
About Me
Language
Position
PROFESSOR | Oncological Sciences
Research Topics
Cancer, Enzymology, Protein Degradation, Signal Transduction
Multi-Disciplinary Training Areas
Cancer Biology [CAB], Development Regeneration and Stem Cells [DRS]
About Me
Language
Position
PROFESSOR | Oncological Sciences
Research Topics
Cancer, Enzymology, Protein Degradation, Signal Transduction
Multi-Disciplinary Training Areas
Cancer Biology [CAB], Development Regeneration and Stem Cells [DRS]
Education
PhD, Columbia University
Research
Post-doctoral Fellow: Kenneth Wu
MD/PhD Graduate Student: Robert A. Chong

Covalent linkage of ubiquitin chains to cellular proteins leads to targeted substrate degradation by the 26S proteasome, thereby promoting unidirectional alteration of a divergent array of cellular processes, such as cell cycle progression and signal transduction, in a manner that profoundly impacts tumorigenesis.
Central to the ubiquitination reaction is the recognition of a substrate by an E3 ubiquitin protein ligase, which also functions to recruit an E2 ubiquitin-conjugating enzyme that catalyzes the transfer of ubiquitin to the target protein. Work from this laboratory has helped discover and characterize a super-family of E3s known as the cullin-RING ubiquitin ligases (CRL). CRL comprises ~300 modular protein complexes (including CRL1/SCF, CRL2-5 and CRL7), nearly half of E3s in humans. Lysine 48 (K48)-polyubiquitination mediated by CRL is a predominant cellular mechanism for targeting proteins for degradation by the 26S proteasome. CRL deregulation causes protein imbalance that contributes to myriad cellular defects or disease states such as cancer.
To understand and target K48 polyubiquitination by CRL, we recently developed fluorescence (Förster) resonance energy transfer (FRET)-based cell free reporter systems that generate a specific fluorescence signal as a result of enzymatic synthesis of an ubiquitin-ubiquitin covalent linkage through K48. On the basis of this assay format, we have performed high throughput screens, resulting in identification of a diversified array of small molecule inhibitors and are currently exploring their mechanisms of action and therapeutic potentials.
In addition, fluorescence-based assays are highly sensitive, allowing direct visualization of the process of K48 ubiquitination. We are exploring this innovation to develop real time reaction models that help understand the dynamics of K48 ubiquitination, a process of fundamental importance to a living cell.